The other day reader David King  commented in a post covering the Laramie Auto Company: "I'm intrigued that shop dogs have been a tradition for more than a century now." His statement is quite true, as it has long been common in the automobile trade and we have two shop dogs and now a young kitten, all of which you can learn a bit about today.
Meet Stanley, named in honor of our late friend Stanley Lynde, who is filling the first official Guard Cat and Mouse Catcher position here at The Old Motor. He is only about six and-a-half weeks old and tiny at only six inches tall. Stan was found two weeks ago by "Smiling Lena" our little yellow Labrador Retriever mix two weeks ago hiding under a small shed behind The Old Motor workshop. He was small for his age, dirty, underfed and was on his own and separated from his mother about six weeks before the usual ten-week time frame which is considered the ideal for kittens to be on their own.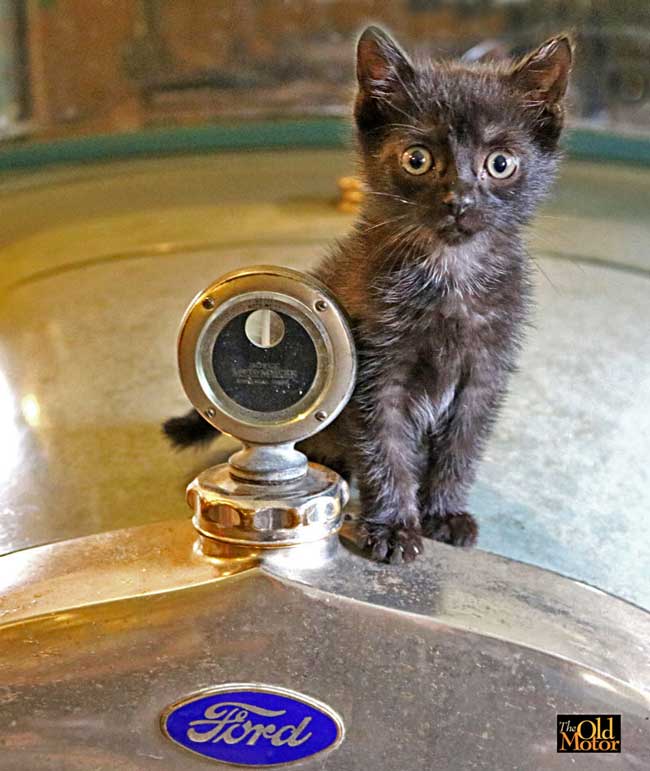 Stanley sitting on the hood of an unrestored 1929 Ford Model "A" sport coupe behind its Boyce "MotoMeter" gives you an idea of just how small he is.
Two weeks down the road and after a trip to the veterinarian, Stanley remains small for his age although he is in great shape and is almost finished drinking infant cat formula, is eating like a horse and running around like a banshee. He has been gaining weight and should be a healthy and robust boy in no time.
His resume is somewhat sketchy, however a couple of days ago we learned a neighbor saw a small and scrawny mother cat and two tiny underfed kittens at different times, and it appears they are living under a small old garage on her property. Stan apparently walked away from his inattentive mother and soon became lost.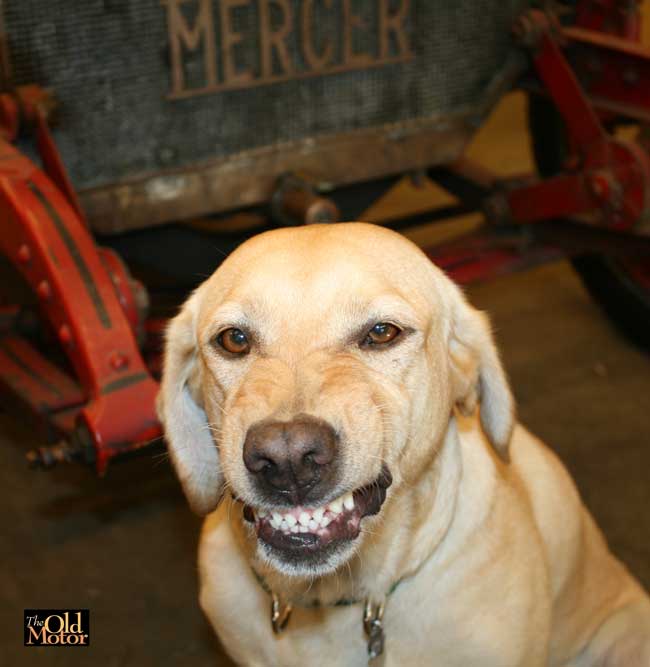 "Smiling Lena" breaks out with a big grin like this from the moment she wakes up and for the rest of the day and night when she is happy. You may think she is growling, but that is not the case in this photo as she is modeling an extra large smile which only appears that way.
So, Stanley is slowly blending in here and gaining acceptance from the other assistant four-legged workers here at The Old Motor which include two Labrador Retriever shop dogs who are also rescues.
Three and-a-half year old "Smiling Lena" is pictured above grinning from ear to ear in front of the Baily-Helck-Freeman 1914 Mercer "Raceabout." Seven-year-old Cassie, a purebred Black Labrador below in a unrestored 1930 Lincoln Phaeton that was locally owned and sold here on The Old Motor two years ago. The two of them are both well behaved and mellow as most Labs are.
And just as David King commented, all three are keeping a "tradition for more than a century now" alive. Tell us about any shop dogs or cats you may have or encountered.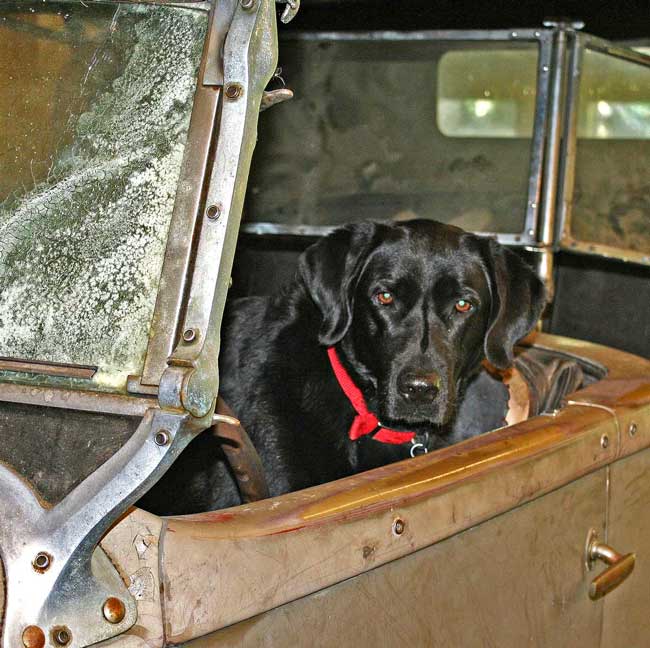 Cassie is close to the perfect dog, she never gets in trouble, always stays nearby and loves to meet people.