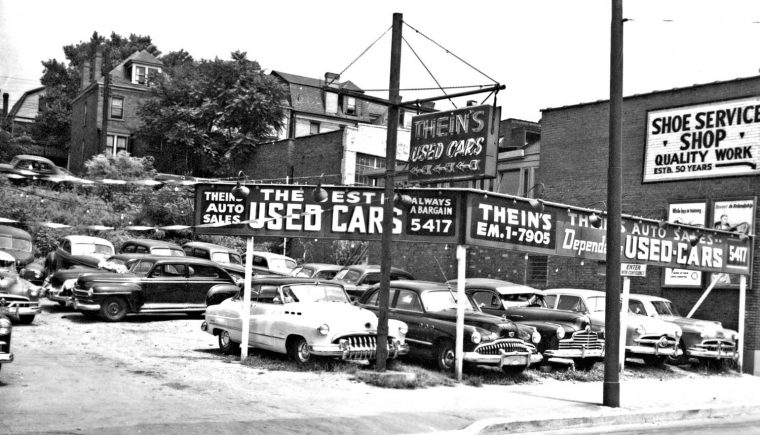 Today we return to the series of vintage car photos taken in the Pittsburgh, Pennsylvania area we have been viewing recently to 5417 Penn Avenue in the City, the site of Thein's Auto Sales. Like many used car lots the signage, of course, tells you how wonderful the stock offered is with the following slogans: "The Best," "Dependable," and "Enter with Confidence." Five late-model used cars are visible in the front row with older and more affordable units located behind them, at the rear are the typical back lot specials.
Norman Agnew's used car lot below was located in Shadyside, a neighborhood on the east side of Pittsburgh apparently at 786 Centre Avenue, a tree and brick-lined thoroughfare with streetcar tracks. The signage and appearance of Agnew's were a little more upscale than Thien's, although other than the front row less of the stock was easily visible while driving by. The Lot's tagline was "Used Cars With A Guarantee That Counts." The stock in the front row all appear to have good paint jobs and are clean, bright and shiny.
Tell us what you find of interest in this pair of photographs courtesy of the University of Pittsburgh Library.