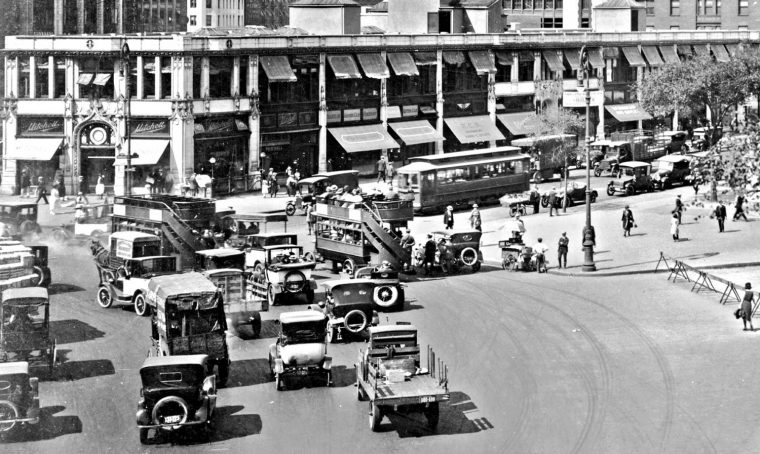 While viewing early images in the Library of Congress Archives this view of Columbus Circle and Central Park West was found which is a section of a larger picture. After enlarging a part of the photo above, it was found that the building in the background either appears to be a part of an "Automobile Row" or it contains at least three Automobile sales agencies.
On the far-left of the building is a Mitchell Showroom, and to the right of it the first pair of awnings do contain "Motor Car" as part of the signage. The third awning on the right is clearly above an H.C.S. Agency handling the car Harry Stutz constructed between 1920 to '25 after selling the Stutz Motor Company in 1919 after a disagreement with stockholders.
Vehicles of interest in the street scene are, a large r.h.d. sports car behind the double-decker bus near the center of the image, this automobile has early style flat fenders and is finished off in the manor of the Simplex car. Also waiting in traffic are two horse-drawn carts, four or five black and white taxis, a number of trucks and one electric car. Automotive billboards in the background include one for "Firestone Tires" and another for the "Smith Form-a-Truck" conversion offered for the Ford Model "T."
Just to the right of the view below in this 1921 full-sized photo of Columbus Circle is the monument for the USS Maine battleship that sank in the harbor at Havana, Cuba while protecting US interests during a Cuban revolt against Spain in 1898. The photograph by Irving Underbill is courtesy of the Library of Congress.
Tell us what you find of interest in this photo taken in New York City 95-years ago.