This image, taken on a street in the City of Pittsburgh contains a group of British sports car enthusiasts and their cars at a gathering of some sort in 1951. In the post-war years, imported sports cars became quite popular with service men and women who had served abroad during the World War II because of their good road handling characteristics and charm. The machines some of them shipped back home interested others and soon imported sports cars, convertibles, and sedans became somewhat popular here in the US.
In this photo on the left, front-to-back is an MG TC, an MG TD and behind it an unidentified machine. The TC was an improved version of the earlier pre-war TA and TB models. TC models are powered by 54 h.p 1250cc (1.25 liter) four-cylinder o.h.v. engines and are equipped with four-speed transmissions. This model was produced between 1945 to'50.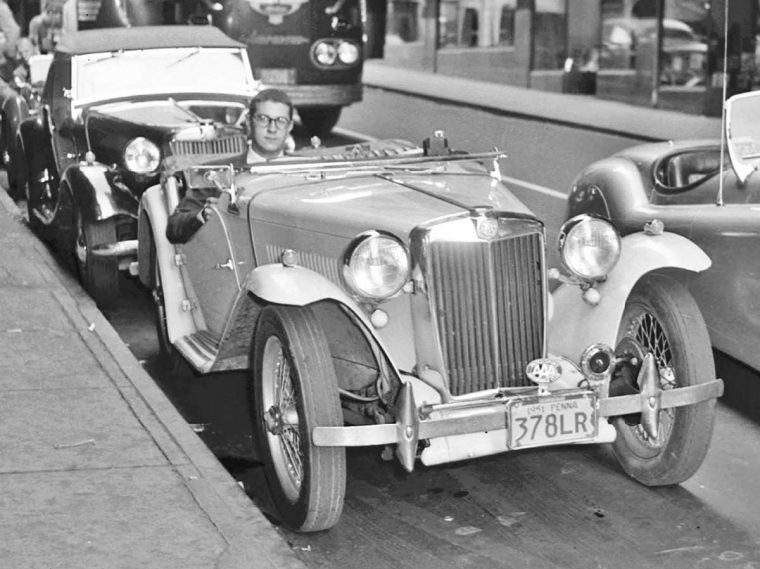 Front-to-rear above is an MG TC, an MG TD, and an unidentified machine behind them.
The later MG TD, second in line above was changed somewhat and fitted with a more modern chassis like that used for the MG TY saloon with independent front suspension and semi-elliptic rear leaf springs. The US export models used a similar 1250cc engine as used in the earlier models but with the compression ratio raised from 7.4:1 to 8.1:1 with an output of 57 h.p. This model was in constructed between 1950 to '53. Behind the TD is an unidentified sports car.
On the right-hand side of the image is an upmarket Jaguar XK120 roadster that introduced the new 3,400 cc (3.4 liter) d.o.h.c. six-cylinder engine when it was a show car at the 1948 London Motor Show. It was named for its 120 m.p.h. top speed and was soon put into production with a chassis featuring independent torsion bar front suspension with semi-elliptic leaf springs fitted at the rear. Other body styles offered were a drophead and a fixed head coupe. The XK120 was in produced between 1948 to '54.
Tell us what you find of interest in this photograph courtesy of the University of Pittsburgh Library.
Below a Jaguar XK120 roadster.