Earlier in the week, Charlie Stuart's 1953 Studebaker Commander Hoosier "100" Pace Car was featured here, and today we cover the Indianapolis Oldsmobile dealer's involvement in the 1960 Indianapolis 500 race.
But first, we need to return back to the 1950s and two racing incidents that changed the face of the sport forever. At the 1955 24 Hours of Le Mans race, a monumental racing disaster occurred when a Mercedes racing car was involved in a crash with another car and ended up in the grandstand and killed 82 spectators and injured many others.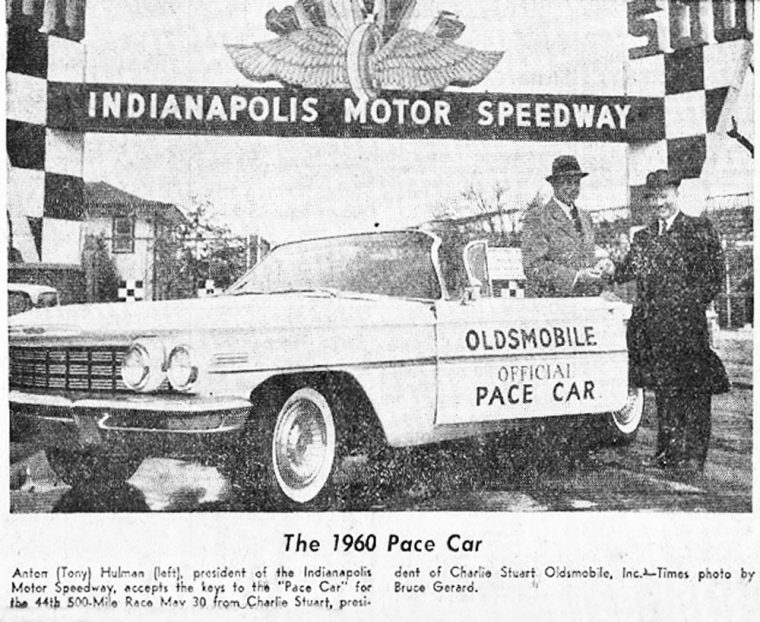 Charlie Stuart above presenting the keys for one of the Oldsmobile's to Tony Hulman president of the Speedway – In the photo below Stuart gives the keys to Jim Rathmann, the winner of the 1960 Indianapolis 500 Race.
Two years later in 1957, it was reported that a Mercury Meteor crashed into the grandstand at a NASCAR sponsored stock car race. Shortly after that in June of 1957, the Automobile Manufacturers Association in a defensive move banned the involvement of automakers in racing. The ban also included not providing pace cars for races or assisting anyone involved in auto racing or publishing race results. The action ended in 1962 when Ford announced that it was going back into auto racing.
Chuck Stuart supplied these photos and wrote the following about his father's involvement in the 500-mile racing classic: "Charlie Stuart Oldsmobile, Inc. furnished the 1960 Pace Car and sixty-six other Oldsmobiles used for the Indianapolis 500 Mile Race. My dad paid for all of the costs involved with the Pace Cars and the other Oldsmobiles involved in the race and the Indianapolis 500 Festival."