The Bear Manufacturing Co. of Rock Island, Illinois, for over four decades set up its state of the art wheel alignment equipment near the car garages in Gasoline Alley and offered wheel alignments to all car owners and crew chiefs.
Today's pair of staged images, taken on May 4, 1954, contains a Bear Manufacturing Co. wheel alignment rack and company mechanics checking the front end settings on an unidentified four-cylinder d.o.h.c Offenhauser-powered racing car. Unlike today's plush garages you will notice that Bear's operation was in a lean-to with tarps used on the sides and probably the front for protection against wind, rain, and cold weather that can be experienced at the track in Indianapolis the spring.
A third image below shows Jim Rathman's Kurtis Kraft roadster and crew in their garage in Gasoline Alley. It is followed by an action-packed and interesting video of the 1954 Indy 500 race.
Tell us if you can identify the car on the Bear wheel alignment rack and what else you may find of interest in the images courtesy of the Indiana Historical Society.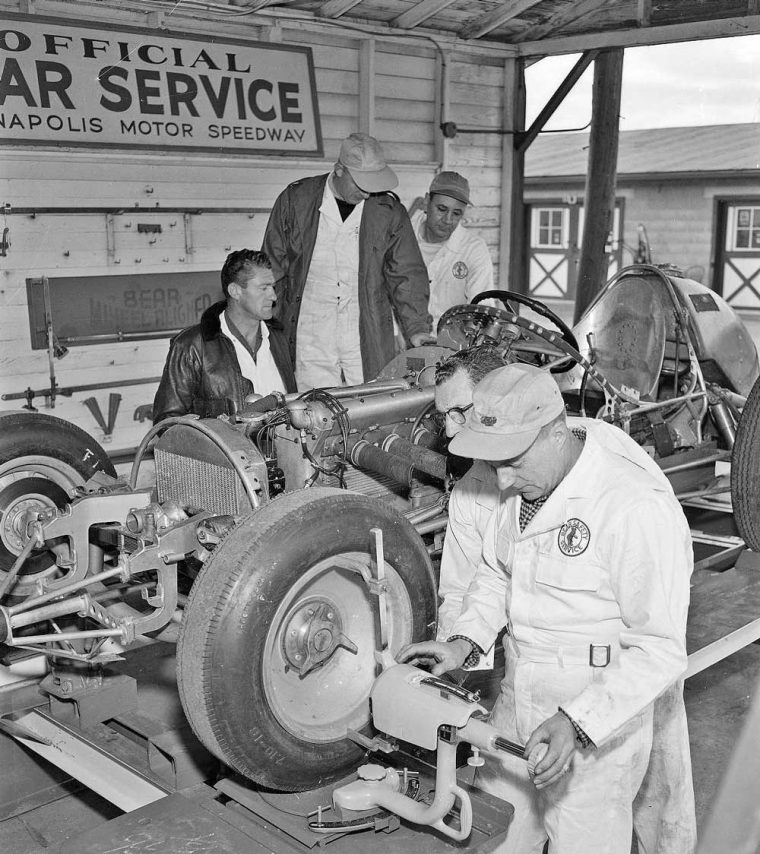 Close up view of one of the two front alignment tables set up for checking the camber angle of a front wheel.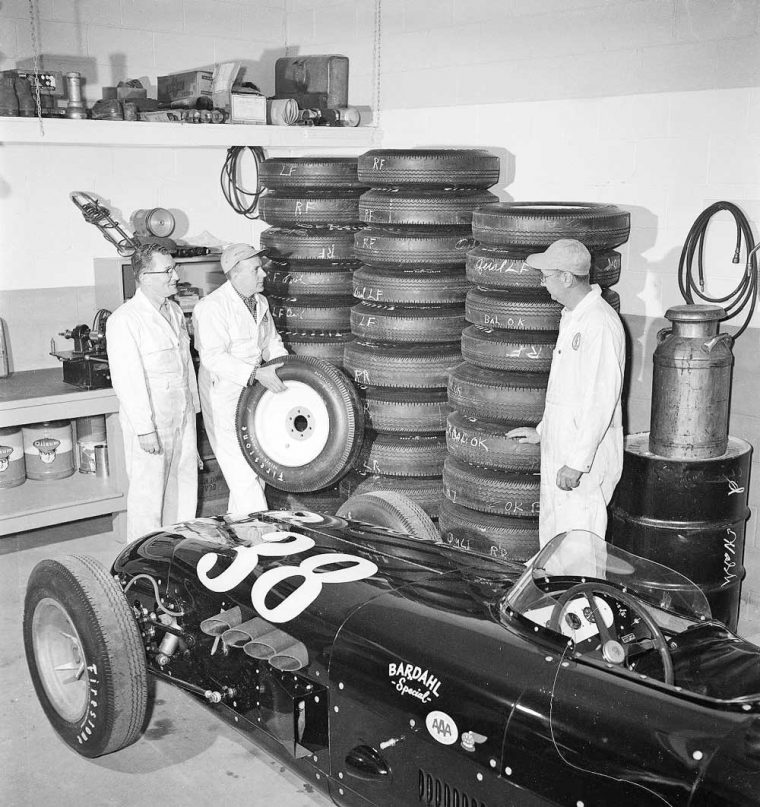 Jim Rathman's Kurtis Kraft roadster above in its garage located in Gasoline Alley at the speedway. The car powered by a four-cylinder d.o.h.c Offy went out on lap 110 after an accident. The crew from Bear is stacking up all of the Firestone tires mounted on Hailbrand magnesium rims needed during practice and qualifying laps and possibly the 500 mile the race.
View the fast-paced action on the track at the 1954 Indianapolis 500 mile race.