Updated: The feature image today contains a very stylish 1930 Cord L-29 with cabriolet coachwork designed by Alan H. Leamy which was chosen as the pace car for the 1930 Indianapolis 500 that year. The diver is Wade Morton, Cord's sales manager and a veteran racing car driver who was in the 500-mile classic from 1920 to '27
The L-29, introduced in 1929 has a front wheel drive drivetrain with a three-speed transmission that was designed by Auburn chief engineer C.W. Van Ranst and others at the Auburn, Cord, and Duesenberg organizaton. The front axle is loosely based on that of the front wheel drive Miller racing car. A Lycoming L-head 298.6 c.i. straight-eight engine producing 125 h.p. that was also used by Auburn was chosen to power it.
Below are patent drawings filed by Leamy showing styling elements along with the unique front wheel drive layout, and front suspension system. Leamy's design won a top award at a Concours held in Monte Carlo while it was in production. During the trying times of the Great Depression, the L-29 was produced only between the years of 1929 to '31, and only a little over five-thousand are reported to have been built. Had the times been different and mechanical flaws the car suffered from quickly corrected, the car and the concept may have gone on to a better fate?
The lead photo is courtesy of the Auburn Cord Duesenberg Automobile Museum Archives.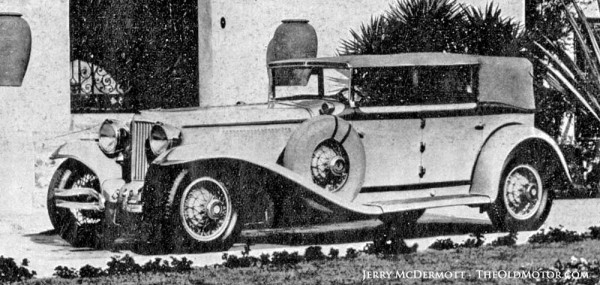 Update: In a period New York City area newspaper article (the name of the paper has been lost,) we found a report a few years ago stating that a L-29 Cord received the highest honor ever given to a standard American car in a competition at Monte Carlo. The article goes on to state that a second L-29 with an American custom body designed by Count Alex de Sakhnoffsky also won a Grand Prix that apparently was another name for a Concours type of show.
Reader Jerry McDermont also found the photo above of an L-29 Convertible Sedan that was in an advertisement in the June 8, 1929 edition of L'Illustration, a French magazine. F.A. Jomini, a dealer with a showroom located on the stylish Avenue des Champs-Elysees in Paris, France placed the ad telling of his upcoming exhibit at the Paris Auto Salon.