Part III – Other Notable Cars at the Concours
By Jennifer Strong:
The featured classes at the Pebble Beach Concours d'Elegance get the majority of attention, but there are many other rare, unique and interesting vehicles to see in the main event on Sunday. All the cars that make it through the selection process and get invited to the Concours are quite remarkable in themselves, and many get overshadowed by the Best in Show winner and the runners-up and the special class awards. Here are some of my favorite domestic built cars of the day.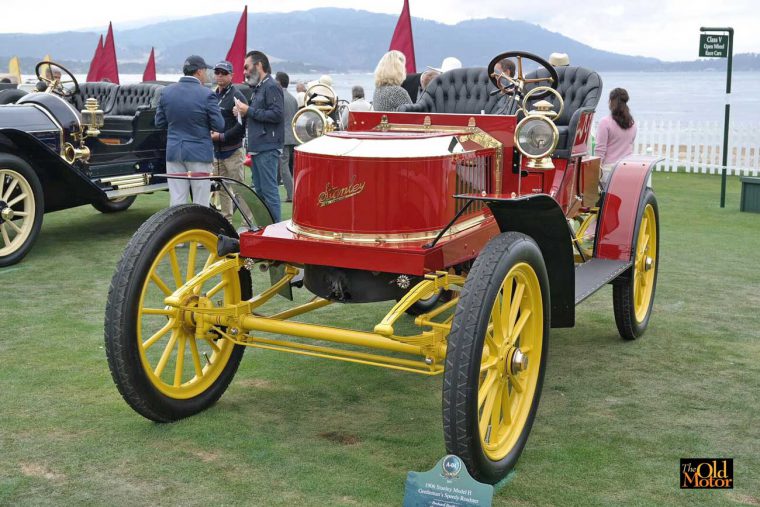 1906 Stanley Model H Gentleman's Speedy Roadster
Steam powered cars seem like historical artifacts of the past, but this Model H Roadster is actually sporty, fast, and able to hit the 80mph mark as built in 1906. This particular car was purchased used in 1915 by Edward Chamberlain to drive to Yosemite National Park on his Honeymoon, later in 1917, he drove it over Donner Summit to Lake Tahoe.
After completing the trip, the Roadster was parked at the family cabin and never driven again. In the seventies, his grandson began collecting the deteriorating parts of the car that at some earlier time had been pushed over a cliff on the family property and later sold the car to the current owners in 1996. A 20-year long restoration project then began, bringing it back to life in beautifully pristine condition.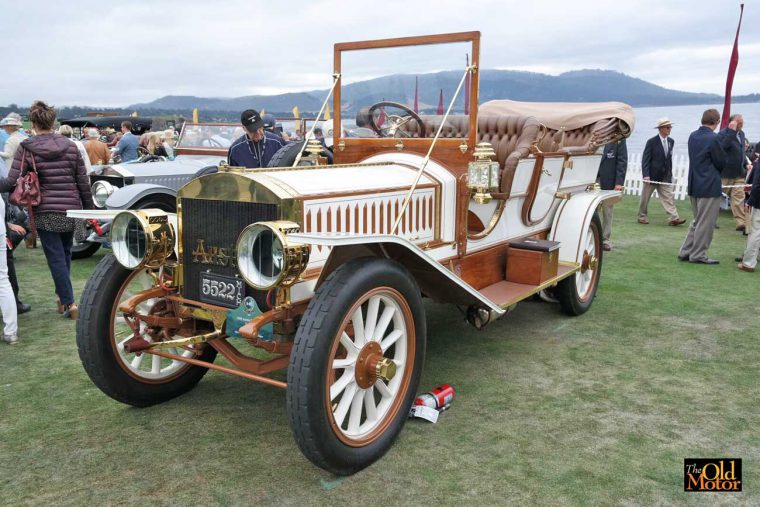 1909 Austin Model 60 Touring Car
The Austin Automobile Company was located in Grand Rapids, Michigan, and founded two years before the Austin Motor Company of England; it produced just 575 cars in its 20-year existence. This Model 60 is a beautiful brass era car, which was first displayed at the 1909 Chicago Auto Show where it sold new for $5,000.
An ex Barney Pollard car, it was re-restored in 2003 by past owner Manny Souza and except for the wooden dashboard has all of its original parts including the engine, chassis, body, and even still retains its original pistons and wheels. The F-head inline six engine still purrs as it did when new and was driven in the 1947 and 1953 Glidden Tours by Pollard.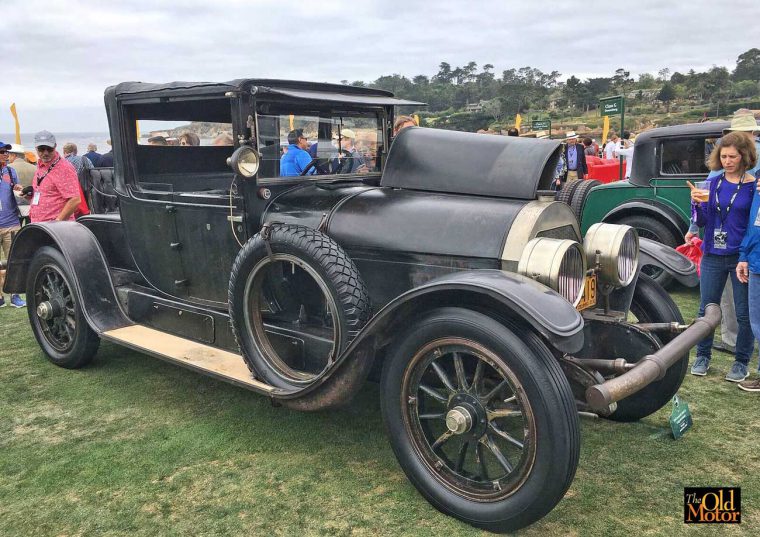 1916 Locomobile Model 38 Collapsible Cabriolet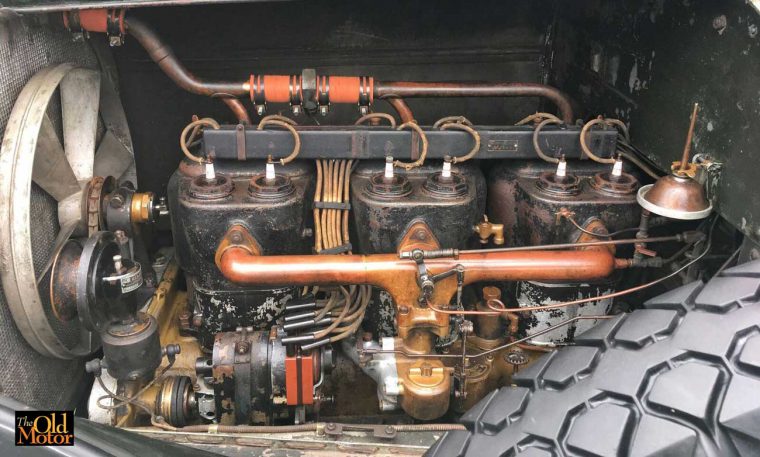 World-class restoration is celebrated at the Concours, but the natural patina of age and originality is also valued in the preservation class and appreciated by the public. Locomobile, with their marketing slogan the "Best Built Car in America" produced high-end luxury cars and understandably only the wealthy could afford them.
This example was owned by the daughter of Maryland Governor Frank Brown, and Mary Ridgley Brown's monogram can still be seen on doors. She passed away in 1922, and the car was put in storage in 1930 where it remained for 80 years. Seeing an unrestored example like this is a rare glimpse of back in time and a bit like opening a time capsule to the past.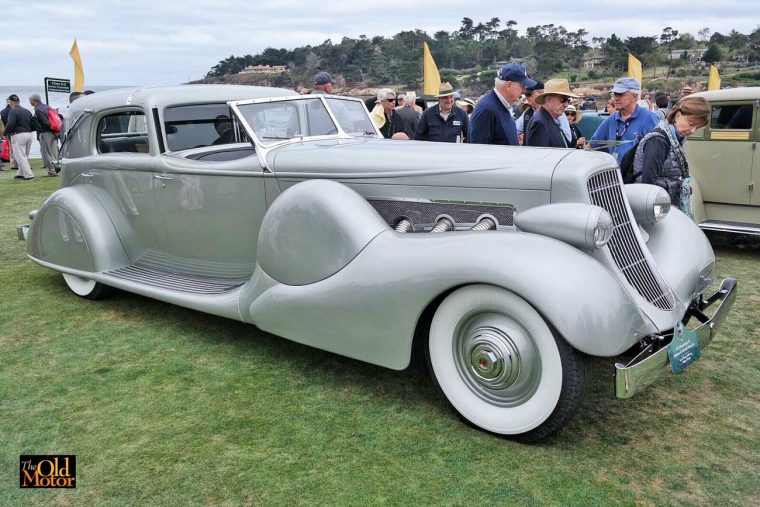 1935 Duesenberg SJ Bohman & Schwartz Town Car
Bohman and Schwartz created the coachwork for many extravagant custom Duesenbergs, and this car is no exception. Known as the "Mars Town Car," it was originally designed for Mae West but ultimately built for candy heir Ethel Mars and has been restored to it's original Chinchilla Grey paint and fur carpet. The car still retains it's original engine, and is one of the small number of factory supercharged chassis' constructed and it was paired with this extravagant open-fronted town car coachwork.
The curvaceous streamlined form was first conceived by talented factory body designer J. Herbert Newport and set the design esthetic for some of the later Duesenberg cars with bodies constructed by Bohman and Schwartz in Pasadena, California.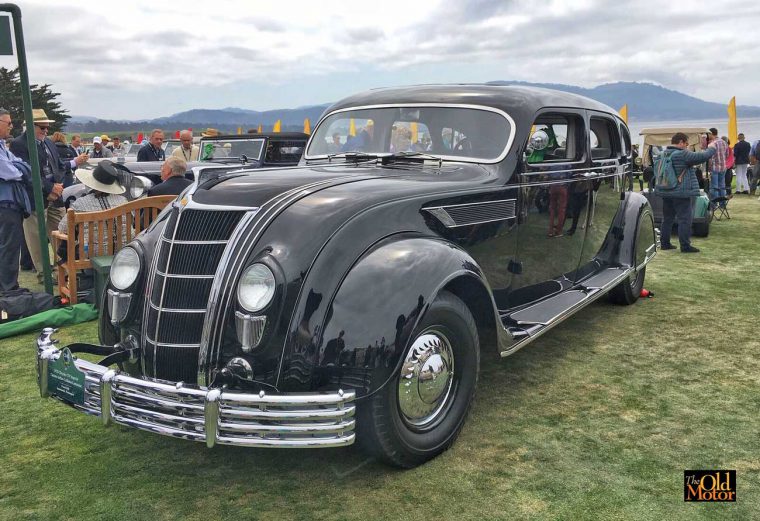 1935 Chrysler CW Imperial Custom Airflow LeBaron Limousine
The Chrysler Airflow is a personal favorite. An Art Deco streamlined masterpiece, ahead of its time in so many ways including it's forward positioned straight-eight engine, waterfall grille, single piece curved windshield and an industry first, automatic overdrive.
I didn't know this LeBaron Imperial Custom limousine version existed until the day of the Concours and learned that ten such CW limousines were built, this being the only known survivor. The extra large scale accentuates the already dramatic styling of the Airflow design, and it has both a bold and luxurious presence.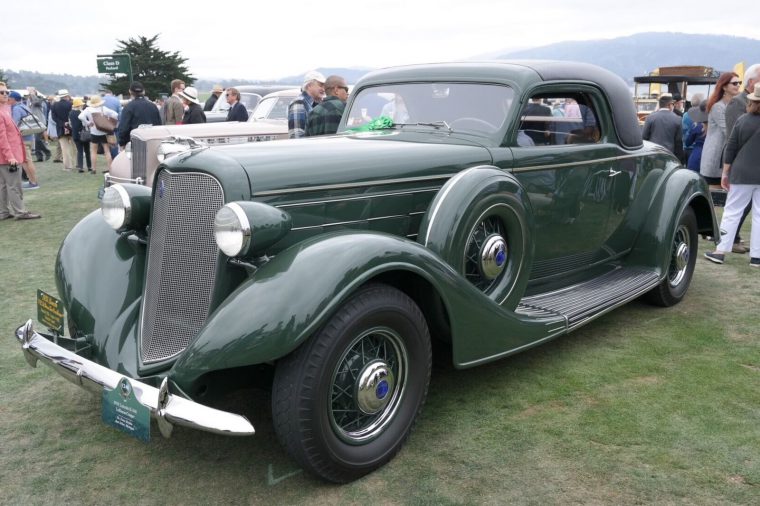 1935 Lincoln K-548 LeBaron Coupe
Owned by Dr. Peter Heydon from my hometown of Ann Arbor, Michigan, this Lincoln is a fitting example from his exceptional collection. With its V-12 engine, it was one of the fastest production cars of its time, even when faced with moving an overall weight of 5,000 pounds down the road. The chassis painted the same color as the body, and the padded leather top adds to the beautifully sleek design. In this day and age, it is remarkable to consider a time when two-seater cars were built to this grand scale. Luckily there's a rumble seat for two extra passengers.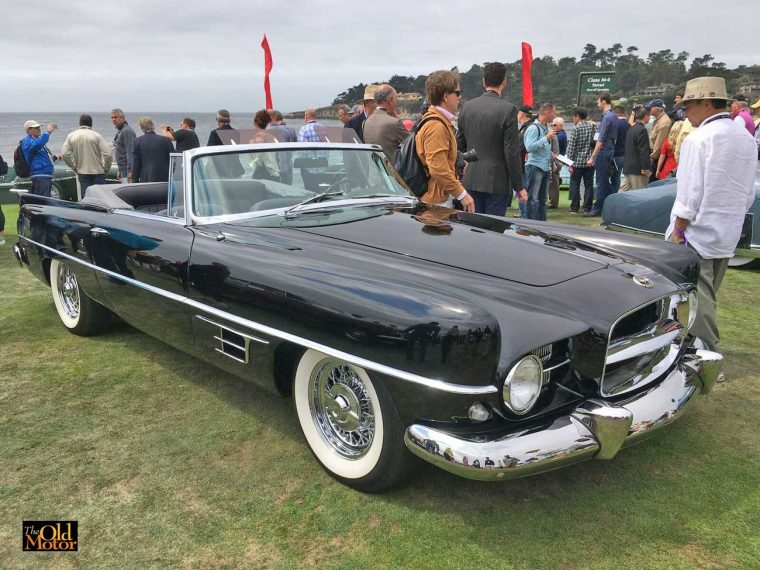 1958 Dual Ghia Convertible
The collaboration between Chrysler and Italian coachbuilder Ghia gave us the great Dodge Fire Arrow and Fire Bomb concept cars. When Chrysler later decided not to build production models Eugene Casaroll of Detroit bought the design. He set out to offer an automobile that combined the reliability of American engineering and the exclusivity of Italian styling. Modified Dodge chassis' were shipped from Detroit to Turin, Italy, fitted with attractive handcrafted coachbuilt bodies and returned to Detroit for the installation of the Dodge V-8 engine.
The business model proved too expensive to maintain, but the demand for the short-lived Dual-Ghia was greater than the supply, and Casaroll carefully vetted the list of interested purchasers. It's rumored a potential buyer offered to move to Connecticut when turned down because of the of the number of Dual-Ghias already in New York. The Dual-Ghia was a Hollywood favorite with owners including Frank Sinatra, Dean Marin, and Ronald Reagan. About 115 were completed and 36 are known to survive, including this beautiful convertible example. The tail fins design was only slightly modified from the concept car design, with Paul Farago of Ghia adding passenger and luggage space and the subtle tail fins.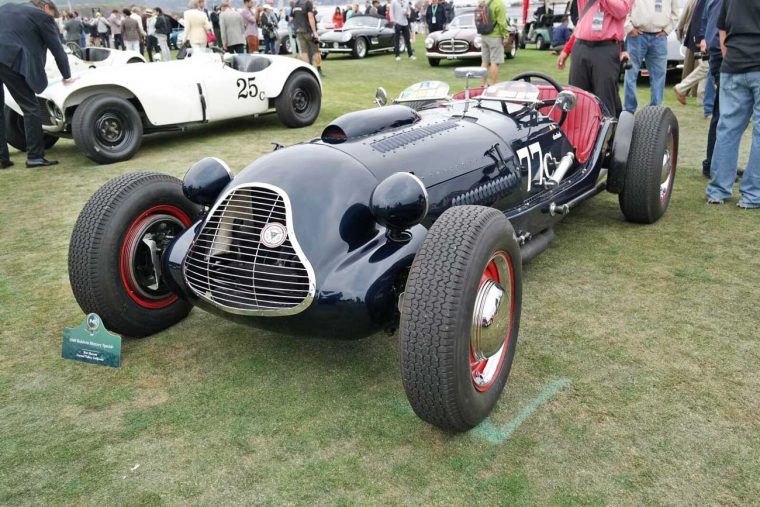 California Specials that Raced at Pebble Beach
Pebble Beach became a gathering place for auto enthusiasts beginning with the Pebble Beach Road Race, a competition first held in 1950, that later added an accompanying Concours. The race for the Del Monte Trophy was run on very challenging two-mile course and unfortunately ended for good in 1956 when Ernie McAfee died when his Ferrari went off course and hit a tree.
The cars displayed in this class are all veterans of the race and showcased the ingenuity and skill of their California creators. All are individual examples but two standouts that interested me are the 1949 Baldwin Mercury Special, and the 1953 Tatum GMC Jack Hagemann Special.
The Baldwin Special pictured above is a successful mishmash of parts assembled on a 1946 Ford Tudor frame and chassis. It is powered by a modified Mercury Flathead V-8 with triple Stromberg downdraft carburetors. The body panels are from donor cars and include an extensively reshaped Plymouth nose, a tail constructed by using a pair of fenders from a 1938 Chrysler. A section of a headlamp opening and fender serves as the hood scoop, a refrigerator shelf that was contoured and then surrounded by a strip of metal followed by chrome plating serves as the grille.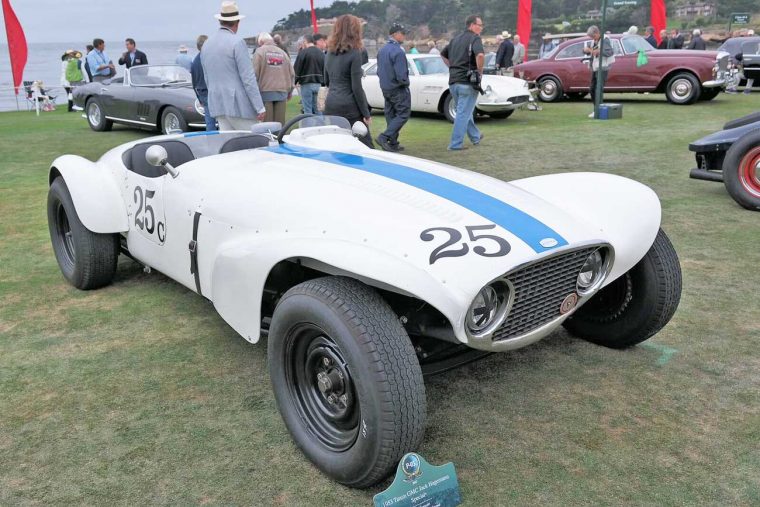 Likewise, wanting an American car to compete with the imports, Chuck Tatum's GMC-powered Hagemann Special is powered by a torquey and durable six-cylinder GMC truck engine installed in a tubular truss frame Tatum fabricated and fitted with Ford axles and a custom aluminum body crafted by Jack Hagemann. The car is also a movie star, having appeared with Tony Curtis and Piper Laurie in the film Johnny Dark, and it continues to compete to this day in historic racing events. It's fitting that this part of Pebble Beach racing history is also celebrated at the highbrow Concours d'Elegance.
The 2017 edition of the Pebble Beach Concours d'Elegance maintained it's tradition of showcasing the world's most beautiful coachbuilt European and domestic cars while also reaching a broader audience by honoring notable creations by individual innovators. It's an approach that I believe works well for the classic car hobby as a whole, offering something for all tastes and hopefully expands attendees interests in the process. With so much to see I only wish the day was longer, and I can't wait to learn what's in store for 2018.