George Stant of Connersville, Indiana began, his business by repairing bicycles in 1898, followed by the founding of The George Stant Machine Works. Early activities included blacksmithing, a brass foundry, developing and making machinery to produce piano tuning pins. Stant invented and patented an axle setter in 1904 for straightening rear axle shafts and a transmission for the rolls on a player piano in 1916.
Later in the twenties, the Company began manufacturing aftermarket automotive parts including a radiator cap to help prevent the theft of Motometers. Stant soon began producing the accessory "Quail" radiator cap for the Model "A" Ford and radiator mascot caps for other Automakers. In the early-1930s George's son Kyle Stant invented and patented a locking gas cap, and at that time the Company was also manufacturing and supplying a number of different parts for automobile manufacturers.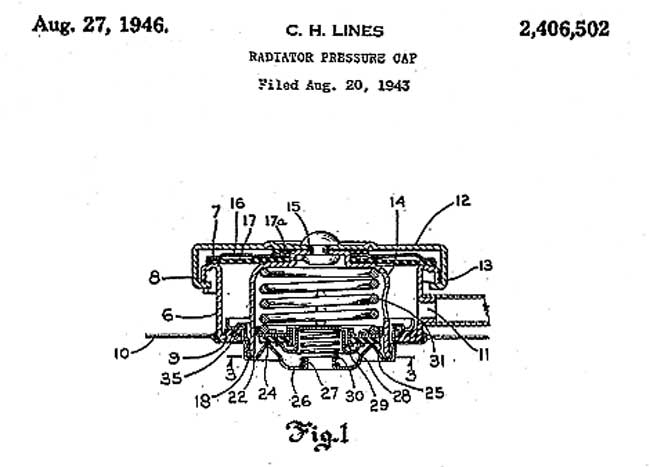 Radiator cap with spring loaded pressure release valve for higher coolant boiling temperatures.
The patent drawing above contains a modern type of radiator pressure cap and radiator filling opening that was granted to C.H. Lines in 1946 for the Stant Mfg. Co. This device allowed the engine coolant to be pressurized which in turn raises its boiling point. Equipped with an internal spring-loaded valve that opens at a set pressure, it routes boiling water and steam out through an outlet (#11) to the overflow tube during overheating. This cap met the needs of then-current engines and allowed for the development of higher compression ratios and increased horsepower in post-war engine designs.
Stant USA is the companies name today and it has expanded overseas and its primary products are radiator caps, inlets, gasoline filler assemblies and vapor canisters for automakers worldwide.
The expandable image below of the Stant machine shop was taken in the early-to-mid teens. A circa-1911 car by an unknown maker that is converted into a truck and an early Indian twin are out in front of the shop.
Tells what you find of interest in this photo courtesy of the Indiana Historical Society.