Kenneth C. Purdy, an inventor from Vista, California, filed a patent application on July 2, 1948, that he described as follows. "My invention relates to a means for marketing goods, more particularly for use in mechanically delivering goods to the occupants of motor vehicles in a parking lot adjacent a retail place of business".
Only a year later a new drive-in restaurant called "The Track" opened, at 8201 Beverly Boulevard in Los Angeles, California. Purdy's invention, in addition to speeding food delivery also eliminated the carhop and the eatery promoted that cost-saving feature with no-tipping signage on the building. Fast food at less cost apparently was the sales line. The application drawings for the patent that was granted on Aug 25, 1953, can be viewed here.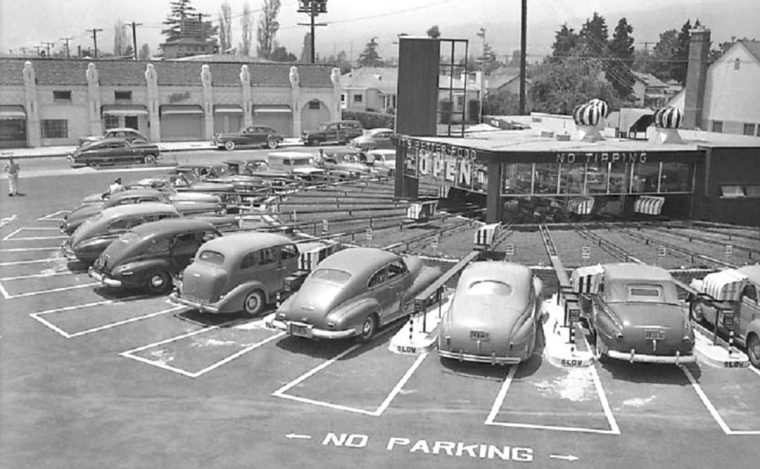 It must have been quite a novelty the first time a customer drove in, parked and was soon greeted by a traveling hooded tray that was sent out from the restaurant much like a horizontal dumbwaiter. After it arrived, the device could be pulled up to the car window. The patent drawing shows a push button activated intercom that was used for ordering.
The photos originate from "Historic Los Angeles" along with some of the information used for this post. They found a 1951 phone book listing for "The Track No. 3" at 3816 Sepulveda Boulevard, in Culver City, California, which points to there being as many as three locations in the chain.
The photo below shows an upscaled version of the restaurants with a canopy. Who owned and operated these drive-ins and for exactly how long is at this point unknown, but in 1952 the contents of one located at 8123 Beverly Blvd. in LA was auctioned off at the site. If you can add to the story, please let us know. Learn more and view more photos at Historic Los Angeles.
Editors Note: I slipped on the ice yesterday, fell and injured my right wrist (I'm right-handed), and spent half of yesterday in the ER. Fortunately it was not broken, just severely sprained and needs to be kept wrapped up and iced. Since The Old Motor is a one-man band and using a computer is difficult, interesting posts from the past seven years are going to be featured here again for at least a part of this week, sorry for any inconvenience.