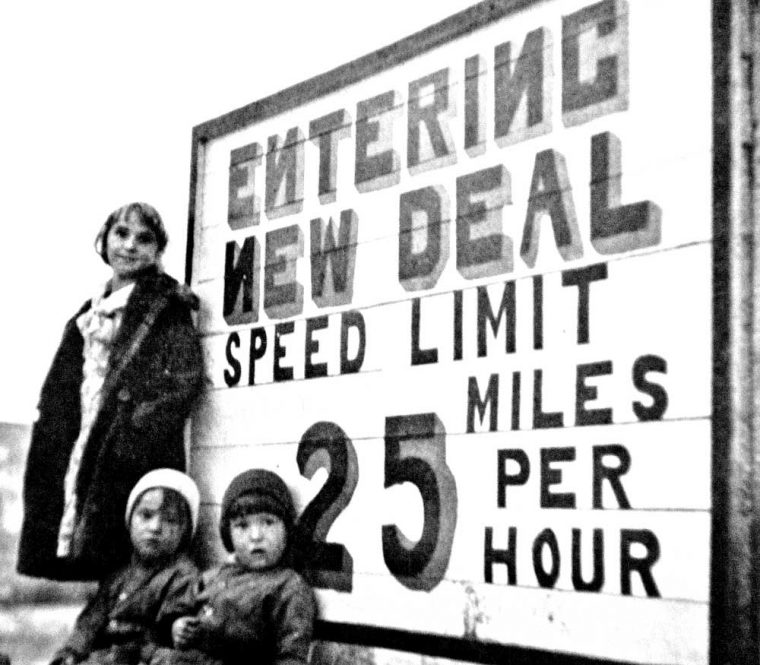 Updated – Located in the southern panhandle of Texas, a dozen miles north of the City of Lubbock is the town of New Deal, the spot where this of this speed limit sign was photographed. It is reported that the small settlement named Monroe was first formed in 1909 beside a new rail line heading north out of Lubbock.
Forty years later in 1949 when the population of the town had reached about two-hundred, town officials decided that a post office was necessary and applied to the US Postal Department for a permit. Knowing that there was already a Monroe City in the state, the settlement changed its name to New Deal – the local public school district formed in 1935 during the Roosevelt "New Deal" Days.
The speed limit sign in the photograph apparently dates back to 1949 or later.
Updated – Editors Note: A Northeaster snow storm that is moving through the area today and has dropped over 10-inches of snow in only the last eight hours. Due to continued outages of power and internet services caused by the storm and winds, we will return with the account of this 1911 to '12 Oldsmobile "Limited" test car pictured below tomorrow morning. In the meantime, you can view other photos and more information about the large and legendary early car built by Olds.