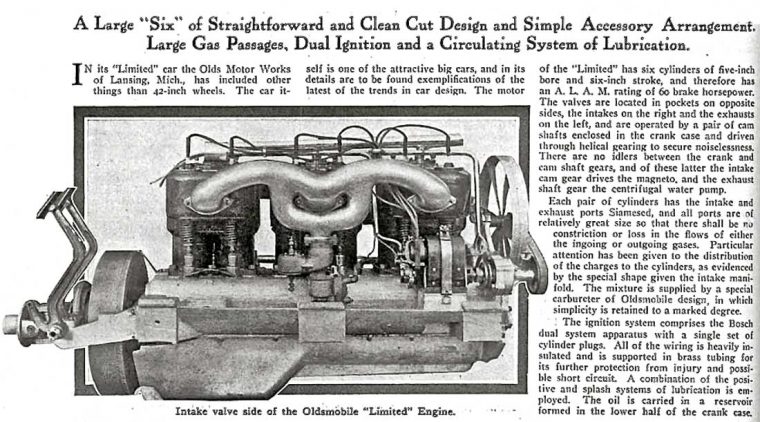 1911 Article in "The Automobile" covering the new and larger 707 c.i. engine with a 5 x 6-inch bore and stroke which was also used in the 1912 "Limited" model.
Today's feature image has a note on the bottom of it, "1912 Fred Belcher Onondaga", the year was added later by another hand so it may or not be accurate. The automobile appears to be either a 1911 to '12 Oldsmobile "Limited" test car, and three other test cars are parked behind it. The building apparently was a part of the Olds factory complex in Lansing, Michigan, or in Onondaga, a small town about fifteen miles south of Lansing.
There is a possibility the driver of this enormous car is racing driver Fred Belcher who worked for Knox and piloted the firm's racing and hill climb cars as late as 1911. Of the thirty or so competitive events he drove in for the automaker including the 1911 Indianapolis 500 he won close to half of them. If Belcher, also a machinist, left Knox in 1911 after Indy he may have gone to work for Oldsmobile testing prototypes of the 1912 "Limited." There is snow on the ground and on the rear wheels of the "test car" that may date this photo to late 1911 or early 1912.
The 1911 Model "Limited" was based on a 138-inch chassis with gigantic 42 x 4.5-inch tires and sold for as much as $7000 with limousine coachwork. The 1912 car, and the end of production of this model rode on a slightly longer 140-inch chassis and the cost with a formal body had dropped to $6300.
View many other photos and find more information in earlier articles about the large and legendary "Limited" built by Olds.