For something a bit different from our typical daily coverage today's feature image contains two Portland, Oregon, Fire Department Vehicles. The chemical and hose truck is a 1913 Pope-Hartford unit based on a heavy duty six-wheel equipment chassis with double chain drive powered by a 50-h.p. four-cylinder engine. The Company also produced lighter duty four-wheel shaft-driven 50-h.p. fire trucks and Fire Chief's cars.
Captain William Heath, the driver, and other firefighters posed for this image taken in 1916. Following the Machine is a Portland FD roadster by an unknown automaker. The Pope-Hartford Company produced mainly high-quality automobiles in addition to the trucks between the years of 1903 t0 1914.
Share with us what you find of interest in this photograph courtesy of Vintage Portland.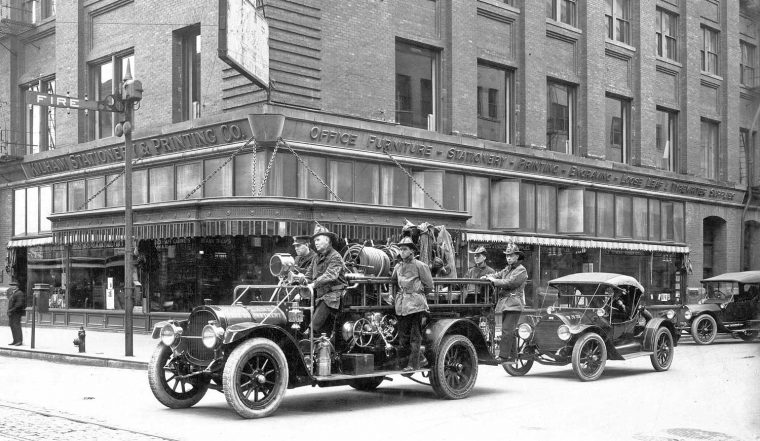 1913 Pope-Hartford 50-h.p. four-cylinder fire engine. – Below is an interesting account in the "Municipal Journal & Public Works", Volume 34, 1913, of a 1912 Pope-Hartford serving the City of Norwich, CT.