Today's feature is Part II of a photo essay covering the Titus Manufacturing Company, an authorized Ford engine rebuilder located in Tacoma, Washington. The business opened during World War II to rebuild Ford engines and keep cars, trucks, and other vehicles equipped with them used for military or other necessary needs in operation. At that time three workers rebuilt twenty engines a month, but in 1947 and '48 when these images were taken sixty-five men were reconditioning 750 engines a month, and over 20,000 V-8 and four-cylinder Ford engines had been rebuilt by Titus.
The lead photo contains a group of workers assembling valves and valve springs in V-8 engines that already have the crankshafts, and camshafts installed, one of the men is working on a four-cylinder engine.
Note that the first engine on the right-hand side of the image has a u-joint attached to the rear of the crankshaft. Located behind the engine being assembled on the far-right center of the image is a portable engine turning device powered by an electric motor with reduction gearing that attaches to the u-joint. At the end of this assembly operation, the device apparently was used to make sure that none of the added parts were binding and there were no sticky valves after this part of the engine assembly was finished.
Two of the images in this installment were taken in Titus's first engine rebuilding shop in an older building in another location. View Part I of the series here.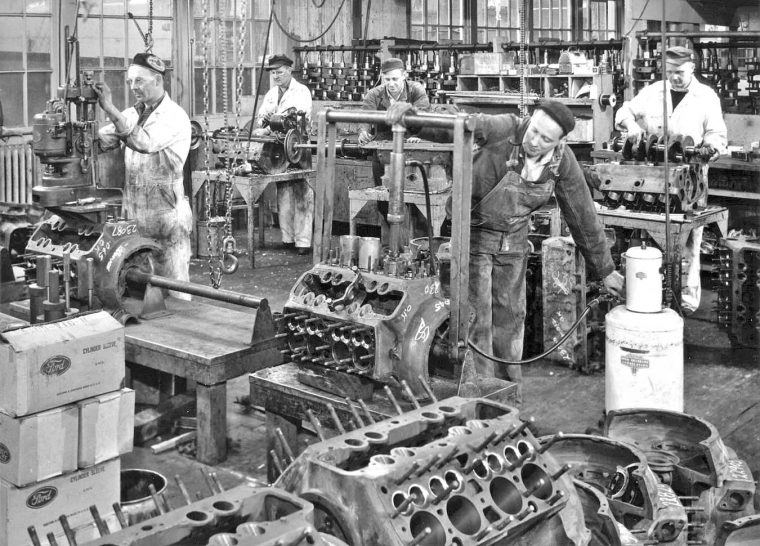 This photo was taken in the old shop building showing left-to-right, a worker boring a cylinder on a fixture used to clear the head studs. Some of the V-8 engines had cylinder sleeves, and the man on the right is pressing a new ones into a block. The two workers on the left and center rear are line-boring babbitted main bearings in early engines.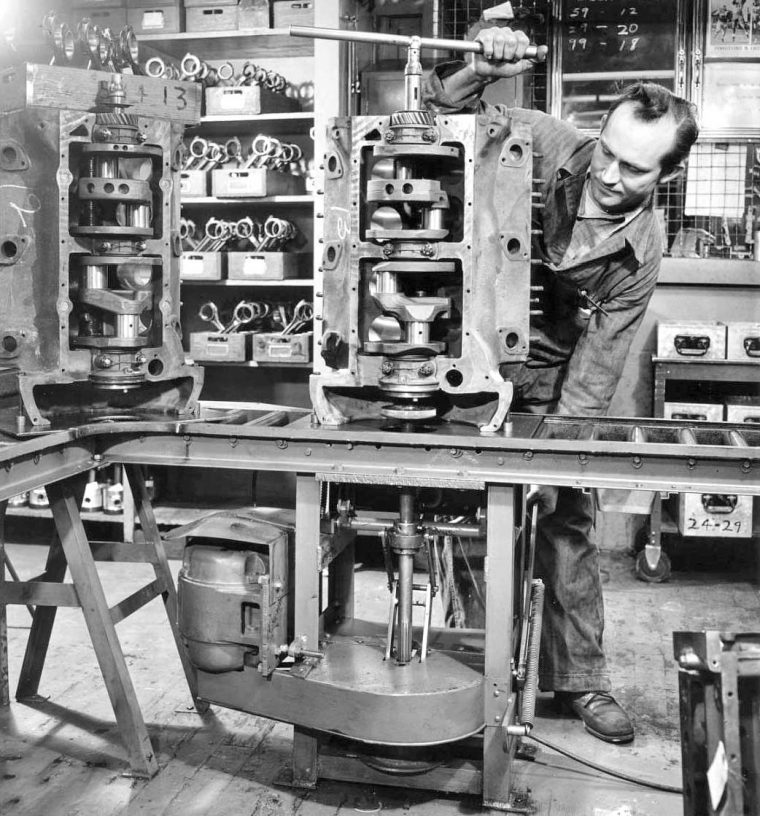 Also taken in the old shop building, this image contains another turning device used to check the installation of the crankshaft and main bearings and possibly run-in babbitted bearings. After this operation is finished the worker places a box containing a set of connecting rod and pistons on the top of the assembly to be installed at the next station.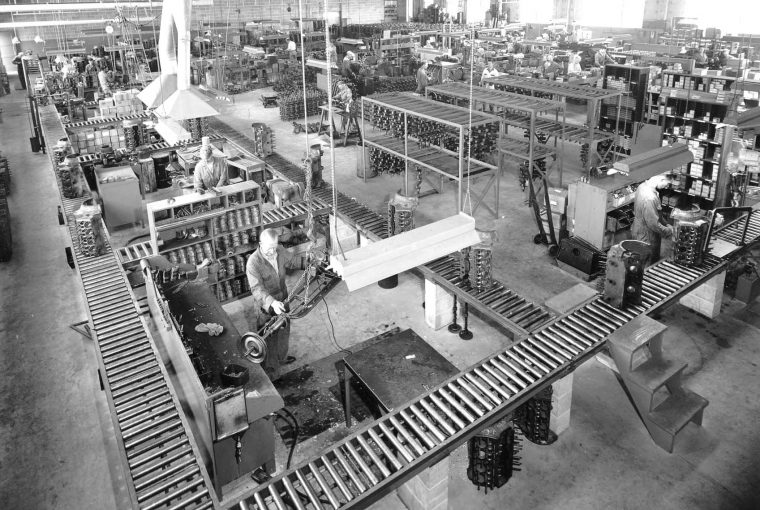 This image contains the area of the new building where various operations are performed on the block and the lower end of the engines. In the center of the photo are two crankshaft grinding machines and associated equipment. The worker in the near-left corner is in the line-boring station for re-babbitted main bearings with the boring machinery hanging in front of himself. The cabinet behind him contains re-babbitted main bearing caps.
We will return with Part III later in the week.