We return to the Ford Flathead V-8 Engine Rebuilder photos today with Part III and look at some of the machinery used to recondition various areas of the cylinder block and the crankshaft.
The lead photo was taken in the Titus Manufacturing Company's first building in Tacoma, Washington. On the left side of the picture, are a pair of workers regrinding Ford "flathead" V-8 valve seats, located on the top of each bank of cylinders with pneumatic grinders. Visible under the conveyor line, are a set of sharpening fixtures used for truing up the grinding stone cutting surface. This is a dirty and noisy job, and cast iron and grinding stone dust fills the air.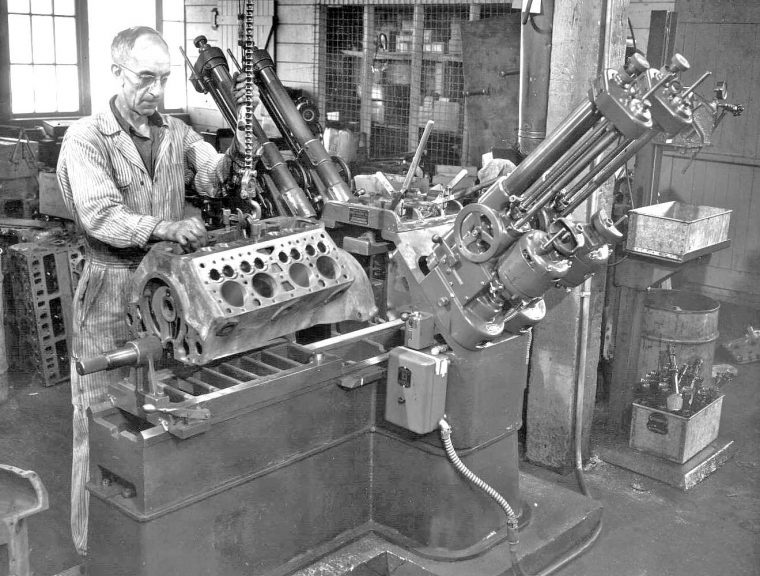 Next up on the line in the old building is a semi-production cylinder block boring fixture with what appear to be four Kwik-Way brand cylinder boring bars on it. Four of the cylinders are bored at a time, and then the block is repositioned, and the remaining four bores are machined. This is another dirty job with cast iron dust filling the air.
On the far-right of the photo is a fixture used for testing rebuilt oil pumps, it is not in a good location due to the cast iron dust from the boring operation getting into the oil used for the testing. This abrasive dust will contaminate the engine oil later and was located in a stand-alone spot in the new building. The pumps are visible in the metal box on the base of the machine.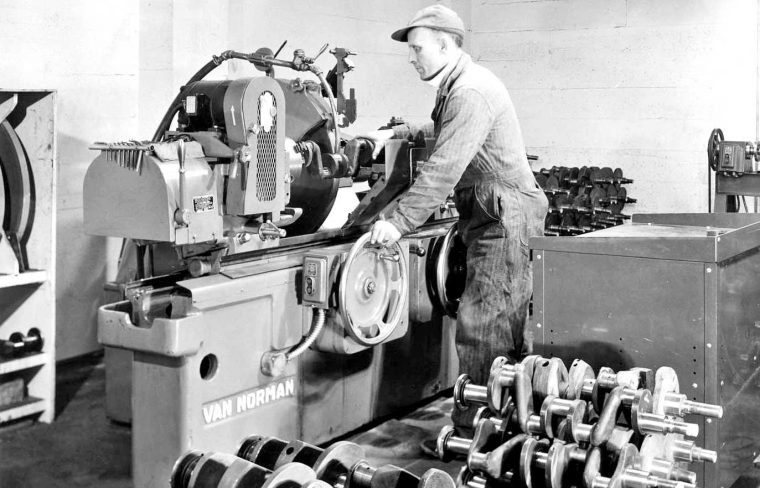 This image contains a small-sized Van Norman crankshaft grinding machine set up in the new building. Near it in stacks are Model "B" and "C" four-cylinder and V-8 cranks that are usually re-ground in batches to save on the set-up time necessary between the four and eight-cylinder shafts.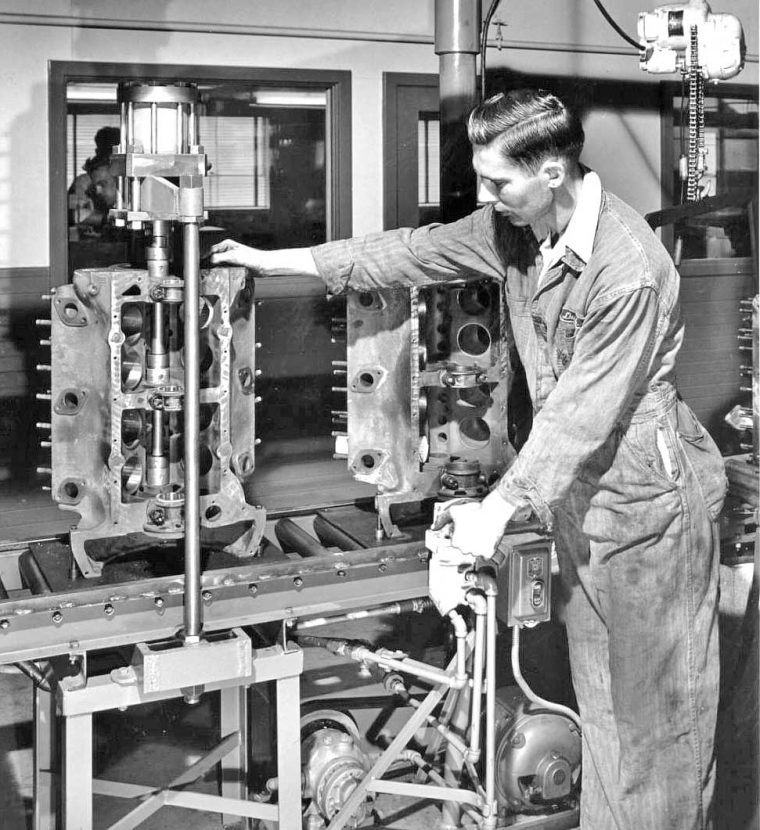 And to wrap up today's post, this worker is using a press and an arbor to insert all three of the precision camshaft bearings into the block. This modern type of babbitt-lined bearing is pre-finished on the inside and outside and does not need a second operation to be performed before the camshaft is set in place during assembly.
Share with us what you find of interest in the photographs courtesy of the Tacoma Public Library.