The lead image in today's installment in the Vintage Gas Station Series is a view of grand opening day of Edward Lee's Shell station located at the corner of Division and Yakima Avenues in Tacoma, Washington. The original extra-wide photo has been reduced in size for publication; the original picture contains a pair of spotlights at the edge of both Avenues for use during the evening hours and a long line of automobiles waiting to get into the facility on either side.
Shell regular was selling for 25.2 cents a gallon and premium for 27.2 cents, and visitors received a free set of drinking glasses with a fill-up. The neighborhood has changed quite a bit over the years, although a modern Shell filling station is on the street corner today.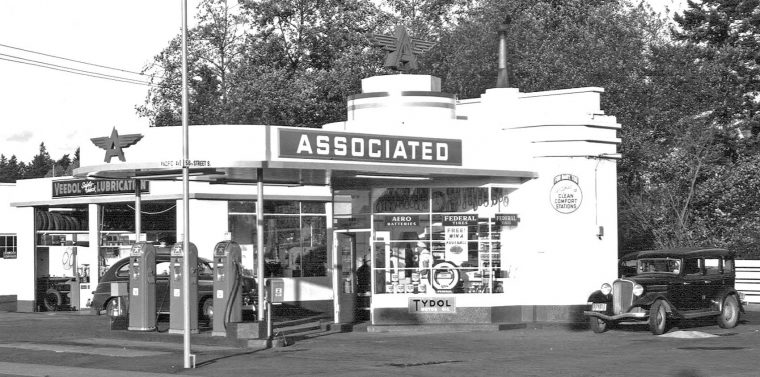 This Associated service station is visible during a quiet moment in November of 1948, at the corner of Pacific Avenue and 56th Street in the City. Signs on the building include "Clean Comfort Stations…For Baby Too," Aero Batteries, Federal Tires, Tydol Motor Oil, and Veedol "Safety" lubrication.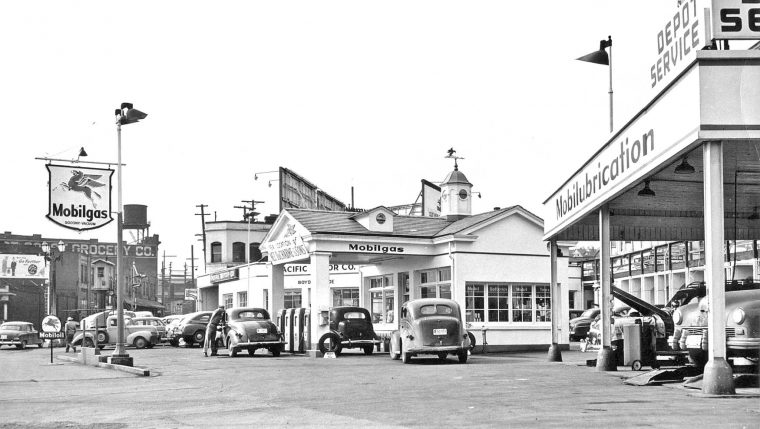 We finish off for today at Pacific Avenue in Tacoma on April 5, 1950, at a Mobilgas station operated by Nez Ducharme & Sons that includes an open-air "Depot Service" area visible on the far-right of the photo. The Pacific Motor Co. repair garage operated by Boyd …..de is visible behind the Ducharme facility.
View over 250 other images in the Vintage Gas Station Series here. Share with us what you find of interest in these photographs courtesy of the Tacoma Public Library.