Today's feature image contains a traveling machinist from Motor Parts and Equipment Inc., with a late-1930s Chevrolet panel truck outfitted with engine reconditioning equipment. This promotional photo was taken on November 3, 1948, at Jim Harmon's Mobil service station located in Tacoma, Washington.
In the 1930s to early-1960s a number of larger automotive machine shops had a machinist with a truck and equipment that would visit service garages and perform reconditioning and machining services for parts that were re-used for engine-in-chassis reconditioning jobs.
The inside of this Motor Parts and Equipment truck (below) is equipped with two piston "Koetherizing" machines from the Koppers Company, which manufactured "American Hammered" piston rings. Behind them on the left is either a Model "A," "B" or "C" Ford four-cylinder engine powering an air compressor that kept the large vertical compressed air storage tank in front of it filled. The pressurized air powered a pair of piston "Koetherizers."
Editors Note: Tomorrow is the Forth of July holiday and due to it The Old Motor will not be published . We will return again on Thursday morning July 5, 2018.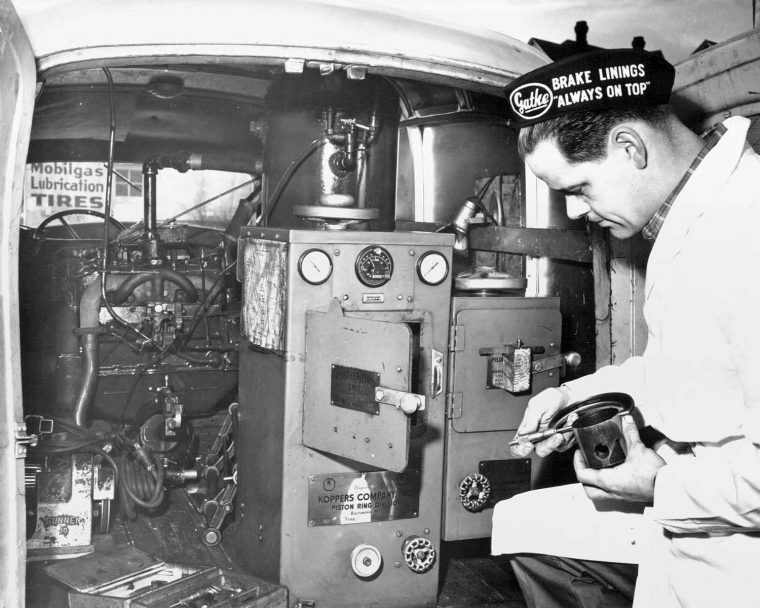 These machines blast a jet of compressed air and steel shot at the inside of a worn piston skirt one side at a time perpendicular to the piston pin bore; at the same time the nozzle moves up and down while the piston rotates from side to side. The machine then blasts the other side of the skirt and the peening action which takes place on both side, expands the piston. The result is a reconditioned piston that returns to its slightly oval shape and size.
When combined with correctly honed cylinder bores and "Koetherized" pistons fitted with American Hammered rings and oversized piston pins the reconditioned assembly could perform for up to fifty-thousand miles of additional service.
In front of the Ford engine on the floor is a disassembled Sunnen in-car crankshaft grinder that could be used to regrind damaged or worn connecting rod journals. Combined with undersized rod bearings and a thorough crankcase cleaning a correctly reconditioned crankshaft could be placed back in service for some time.
Share with us what you find of interest in these photographs by the Richards Studio courtesy of the Tacoma Public Library.