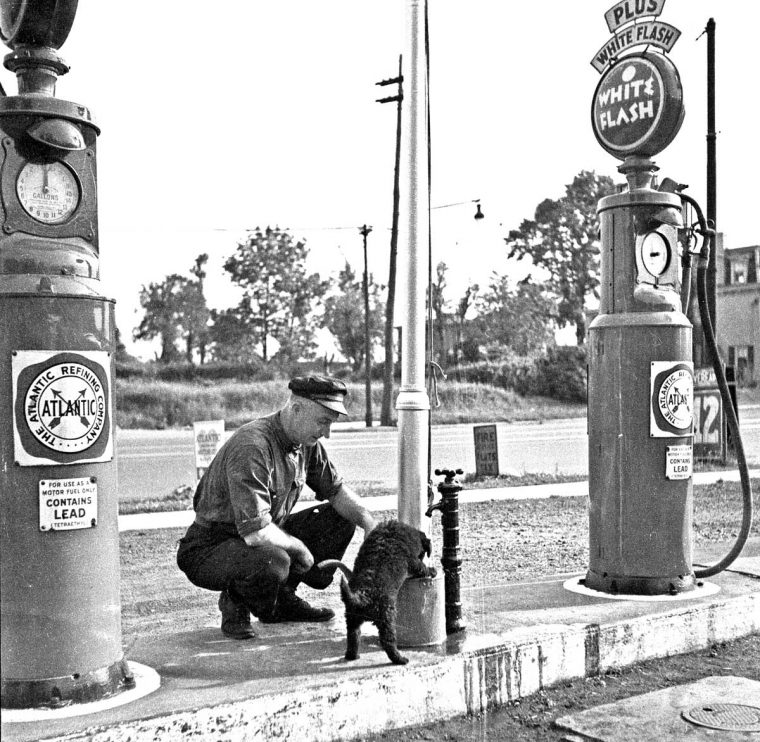 Claude H. Alexander, a talented but relatively unknown amateur photographer, was born in Dublin, Ireland, in 1894 and emigrated to the US in 1911. He was a skilled mechanic and served in France with the 163rd Aero Squadron during World War I.
Upon his return to the States, he worked at a Fordson Tractor agency in Oxford, Pennsylvania. He met Anna Kling, married in 1921 and the couple moved to Philadelphia where he worked at the Frankford Arsenal until his retirement in the 1950s. The couple then moved to Waretown, New Jersey where he bought a small boat and began taking fishing parties out on the ocean, Alexander died in 1978.
The lead image and the photo he took (below) while living in Philadelphia are scenes in the City taken at Atlantic "White Flash – Gasoline Alley" service stations.
Learn his life story "Flag Honors Irish Immigrant" by a great-niece Pamela Powell, Photo Archivist at the Chester County Historical Society and view other images there.
Share with us what you find of interest in the photographs, we will return with more pictures in the future courtesy of the Free Library of Philadelphia.