Updated-While viewing images taken in 1931 at the Continental Auto Works located at 1240 East 9th Street in Los Angeles, California, today's mystery car was spotted in the background. After enlarging one of the photos taken at the scene the lead image gives a good look at the details of its coachwork.
Based on its outward appearance the vehicle appears to be a one-off creation mounted on a stretched production car chassis that hopefully can be identified. The overall look of the vehicle and the construction of the fenders and the lack of running boards probably date this machine to the early 1920s to '26 period.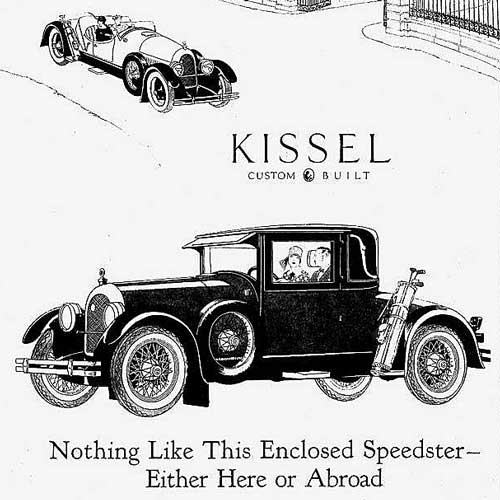 1924 Kissel "Enclosed Speedster" ad published in "The Saturday Evening Post"
It is possible that the original coupe body and the radiator and shell were retained and a new hood and fenders were constructed for the machine. At the time there were also several custom coachbuilders in the Los Angeles area that could have handled the conversion done in the manor of stylist Harley J. Earl.
Share with us what you find of interest in the enlargeable photographs (below) courtesy of the USC Libraries or anything you can add to this post.
Updated-Reader Robbie Marenzi was the first reader who identified today's "Mystery Car" as a Kissel "Enclosed Speedster" that later had its wheelbase lengthened.  The advertisement above was sent in by reader Gregory Wells.