Dr. William R. Bertelsen a country MD, who was a pioneer of air-cushioned vehicles, was an inventor with wide-reaching interests who designed and produced the "Aeromobile-200." The hovercraft was constructed at the Bertelsen Manufacturing Co. located in Neponset, Illinois, in the late-1950s to early-'60s. The first version of the vehicle can be viewed at the National Air and Space Museum.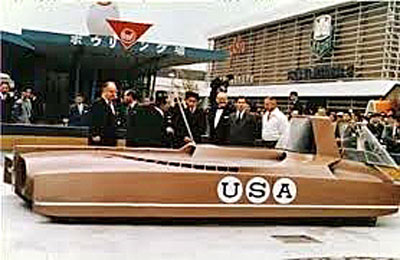 Pictured (above) in the lead image is the second version powered by a 200 h.p. engine that consumes 9.5 gallons of gasoline an hour and drives a peripheral jet, which allows it to hover in the air. Four other separate jets allowed for steering the machine.
The third version contained in photos (above and below) was chosen by the US Department of Commerce to represent the US in the 1962 International Trade Fairs.
As an operating exhibit, it is known that the "Aeromobile" attended events held in Turin, Italy in 1961, followed by Tokyo, Japan and New Delhi, India in 1962. This version of the craft with more attractive lines was constructed complete with an enclosed cockpit and headlamps. The cost of the vehicle when shown in Turin was stated to be $7,2oo that is the equivalent of $183,750 today.
Share with us what you find of interest in the photographs or can add to the story. The lead image is courtesy of the Free Library of Philadelphia.