Howard "Dutch" Darrin, was an internationally famed American automobile stylist who also operated his design studio in Paris, France for a time. "Dutch" designed the unique coachwork for the Kasier-Darrin, which was located in Jackson, Michigan. Earlier he signed a post-war contract with the automaker to work as a freelance coachwork design consultant on all of it's new models.
Later in the early-1950s, he penned the design for the distinctive Kaiser-Darrin sports convertible that featured a fiberglass body shell produced by Glasspar, which featured sliding doors, and a three-position convertible top.
The 1954 production model DKF-161 built by Kaiser Motors, is based on the Kaiser Henry J economy car chassis (1951 to '54) powered by an F-head six. Chevrolet beat Kaiser in the race to bring to market the first fiberglass-bodied production car, the Corvette in 1953. Only 435 of the Kaiser-Darrin convertibles were produced before the automaker closed its doors for good in 1955.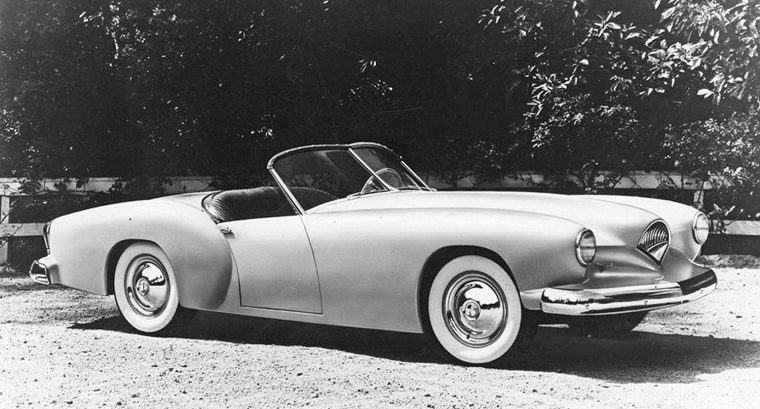 Pictured here are expandable views of the original prototype constructed in 1952. Differences noted are: a vee-shaped divided windshield with a curved top trimmed in red leather, seats which have a vertical pattern, lack of front turn signals, and (below) wire wheel hubcaps and side trim on the lower part of the body.
Share with us what you find of interest in the images or can add to the story. The photographs are courtesy of the Free Library of Philadelphia.