Updated: Thanks to contributor Robert D. Cunningham we now know the complete story of this car which can be read at the end of this post below.
Tiny or "baby cars" as we often refer to them are usually interesting because of their cuteness or unique styling, which is the case with today's feature automobile.
The lead image is a 1946 wire photo from an unknown newspaper published in Detroit, Michigan and the press release with it describes the little convertible as follows; "He said he built the car by hand in only four months and claims the four-cylinder job will do 80 miles an hour. The owner Talmadge Judd is from Kingsport, Tennessee" who was "returning from a business trip in Canada."
The facts about one-off vehicles when featured by the press often get jumbled by the writer, which seem to be the case with this car. The wheels and hubcaps looked familiar, and after a quick search, it was found that the vehicle may be a restyled Pre-War Crosley. If that is the case, Judd extended the vehicle's wheelbase and constructed new and narrower coachwork for it and reused the front fenders, windshield frame and rear fenders with some modifications.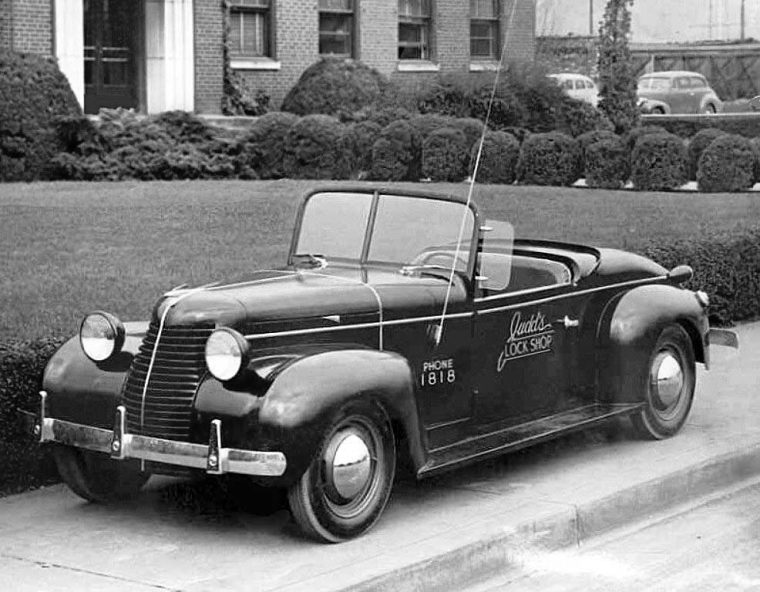 Research also turned up that little car was featured in "Popular Mechanics" at about the same time as these photos were taken. The article in the magazine will either confirm our suspicions or tell the real story about this car if a reader can find it.
Share with us what you find of interest in these images along with any other facts you might turn up about Judd's creation. The lead photograph is courtesy of the Free Library of Philadelphia. The picture below is courtesy of the Archives of the City of Kingsport.
Update by Robert D. Cunningham:

I researched Talmadge Judd extensively in preparation for my book series, "Orphan Babies: America's Forgotten Economy Cars." Talmadge had built a small red service car on an old American Austin chassis in the mid-1930s, which he continued to operate until 1943 when he temporarily closed up Judd's Fix-It Shop to work at the Holston Ordnance Works manufacturing explosives. He quit that job due to illness, and in June, 1945, and opened Judd's Lock Shop."

Judd began constructing the two-passenger Humming Bird convertible coupe in his backyard shed. He had acquired a used American Bantam panel truck, removed its engine and running gear, and then transplanted the mechanicals onto a Crosley chassis with its 12-inch wheels. Since new tires were unavailable during the war, it rolled on a special industrial make of tire located "only after a long period of search and several headaches," he later recalled. The Humming Bird body was constructed of surplus 8-guage aircraft steel instead of standard 22-guage automotive steel and its conservative styling was similar to a three-quarter-scale 1942 Ford. Bantam bumpers and bumper guards protected the body. Modified Crosley front fenders and headlights flanked a flattened Bantam grille that retained the 1940 Bantam hood ornament. He only claims to originality include the overall design and the springs, which he built up using 1/8-inch leaves for a flexible ride. Its leather-upholstered bench seat tilted forward for access to the large luggage space under the sloping deck. The dash carried a set of Bantam gauges. The finished car weighted in at just 1350 pounds.

The Humming Bird took to the streets in August 1945. Its light weight and low profile provided plenty of fun on the highway. Judd often drove up behind taller vehicles—practically under their rear bumpers—and sounded his horn. The confused drivers saw nothing in their rear-view mirrors because the car was too short to be seen through the leading cars' back windows. Judd claimed he could push the little car to a top speed of 70 and achieve fuel economy of 50 miles per gallon at 50 miles per hour. Its 10-gallon fuel tank was mounted at the rear. Initially, Judd was content to display his Humming Bird at local county fairs and horse shows. But he dreamed larger after the little car was featured in the June 1946 issue of Popular Mechanics. After reading the article, a businessman in Lisbon, Portugal, wrote seeking a dealership with an initial order of 20 cars and up to 30 per month thereafter. A U.S. Marine stationed at Camp Lejeune, North Carolina, was "confident that the Humming Bird is going to be a popular little auto once production has commenced. I am determined to acquire one at the earliest date possible. Upon expiration of my enlistment December 27, 1946, it would be a pleasure to serve you as a representative in this vicinity or any size area designated."

With confidence buoyed by these and other letters, Judd drew up plans for an even smaller car shaped like a raindrop. He told local reporters that he had "a little deal cooking on one of the western states." But when nothing developed, he drove the Humming Bird to Detroit in search of interest. There, he conferred with Ray Russell, an entrepreneur whose Gadabout economy car prototype had been featured on the February 1945 cover of Mechanix Illustrated. Russell had given up trying to find a company to build the Gadabout, and he advised Judd to do likewise. So Judd turned his attentions toward designing detachable wheels and tongues for boats in order to make them easier to transport over land. He sold the designs to the Horseclaw Trailer Company. In September 1947, Judd put his beloved Lock Shop up for sale. In 1958, he donated the Humming Bird to the Greenville Masons' charity auction to help raise funds for the local hospital. The winner took the car home to Newport, Tennessee. Rumors persist that the car still exists in or near that area.