By Jennifer Strong: The 2018 Pebble Beach Concours d'Elegance celebrated the 70th anniversary of the Tucker 48 with a featured class of its own. Preston Tucker's sleek postwar "car of tomorrow" fitted with three-headlights, was a crowd pleaser and one of the highlights of the event.
The Preston Tucker story has been told many times and is often romanticized with folklore and fiction. Although, Tucker was an early promoter of rear engine placement, unit body construction, and safety features including crash compartments, and breakaway glass. Tucker the Automaker combined all of these features in his own sleek fastback streamline design.
Even before the release of the Tucker feature film "The Man and His Dream," skyrocketing sale prices in the auction arena ensured that the public believed this car was exceptional and worth owning and preserving. Due to the continued interest and fame associated with Tucker's car seventy-years after the last one was built, forty-seven of the fifty-one that were constructed have survived.
For most car lovers seeing one Tucker is a memorable event, but a gathering of twelve displayed at one of the most prestigious car events in the world is unforgettable, and likely a once in a lifetime privilege. Five of my favorite Tuckers are highlighted below along with others on display at the Concours.
In addition to the Tucker feature class, this year's Concours d'Elegance featured a surprising number of remarkable postwar American Cars. These and other highlights from the show will be in part two of my Pebble Beach report coming soon.
All photographs courtesy of contributor Jennifer Strong. Learn more about Preston Tucker's unique "dream car" that made it into production at the Tucker Automobile Club of America.
1948 Tucker 48 number 1009 owned by George Lucas, Nicasio, California
This car was a display model at Southwest Tucker of Los Angeles, placed in the dealership showroom window to generate public interest for the future production models that unfortunately never happened. Wilbur Haskell saw it on display at the showroom and immediately paid the dealer in full for the "first Tucker that came in". When no Tuckers ever arrived for purchase, Haskell demanded his money back or the keys to the display car. He got the keys and owned this car until 1959. Now owned by "Tucker" movie producer George Lucas who purchased it in 1988, this car has been restored back to a Gray/Silver, and has a Cord transmission.  It displays beautifully and if I had to pick, this was my favorite of the day.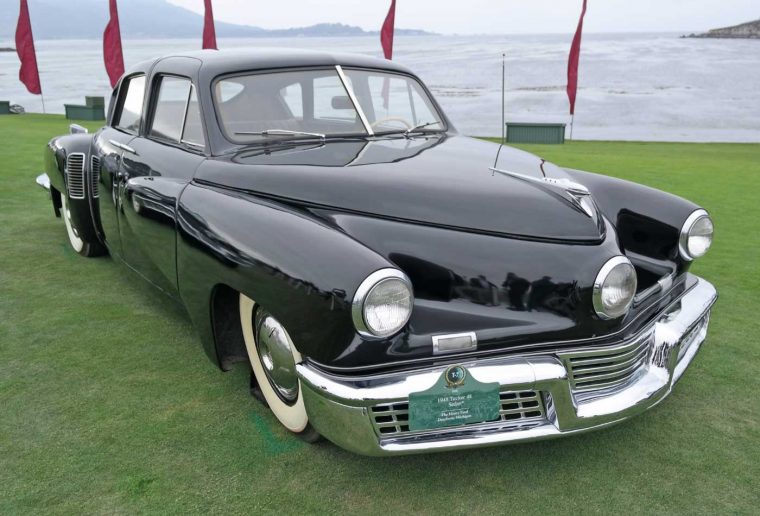 1948 Tucker 48 number 1016 owned by The Henry Ford, Dearborn, Michigan
Growing up in Michigan, I feel like I've known this car most of my life. The "three headlight car" was a favorite from school field trips to the Henry Ford Museum, but back then I did not know this car's full history. After being found not guilty of stock fraud, Preston Tucker filed a civil lawsuit against the parent company of the Detroit News and the News Corporation bought this car to dismantle and find out what made it so special. The car was donated to the Henry Ford Museum in 1958 after Tucker's death and subsequent lawsuit dismissal, and is likely the most original surviving Tucker.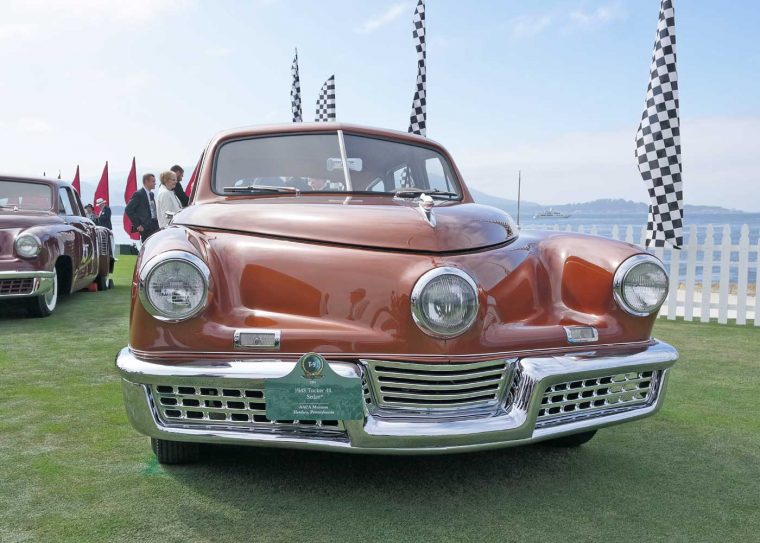 1948 Tucker 48 number 1026 is owned by the AACA Museum, Hershey, Pennsylvania
This is one of two Tuckers to have a "Tuckermatic" automatic transmission installed when new, and the only surviving example. Because of the extra space needed for this transmission, the gas tank was moved to the front of car 1026 including all of the Tuckers built after it with the more common manual transmission.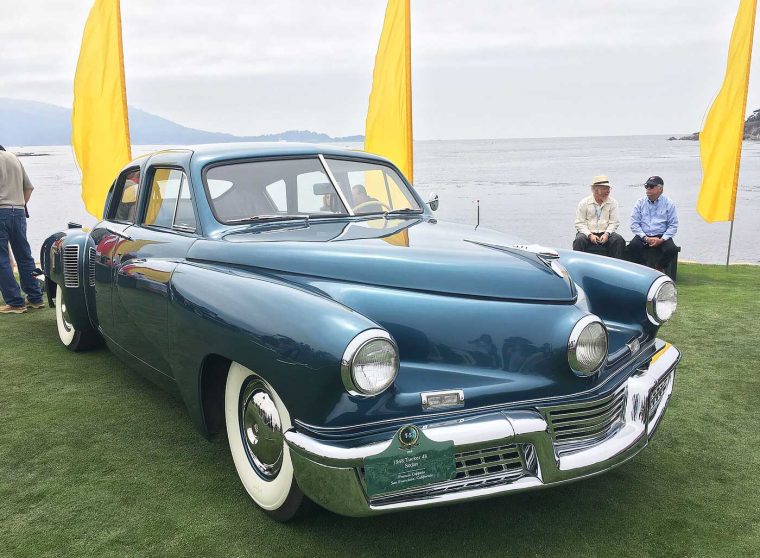 1948 Tucker 48 number 1014 is owned by Francis Coppola, San Francisco, California
This car was purchased for use in the movie "Tucker: A Man and His Dream" and is owned by the film's director Francis Ford Coppola. It is Waltz Blue, a color inspired by one of Mrs. Tucker's dresses, and has the Y-1 transmission. This car is regularly on display on the second floor of Coppola's Inglenook Winery in Rutherford, California and Tucker #1037 (also owned by Coppola) resides at the Coppola Winery in Geyserville. I appreciate that both cars have not been over-restored and are shared by the film maker with the public and driven regularly.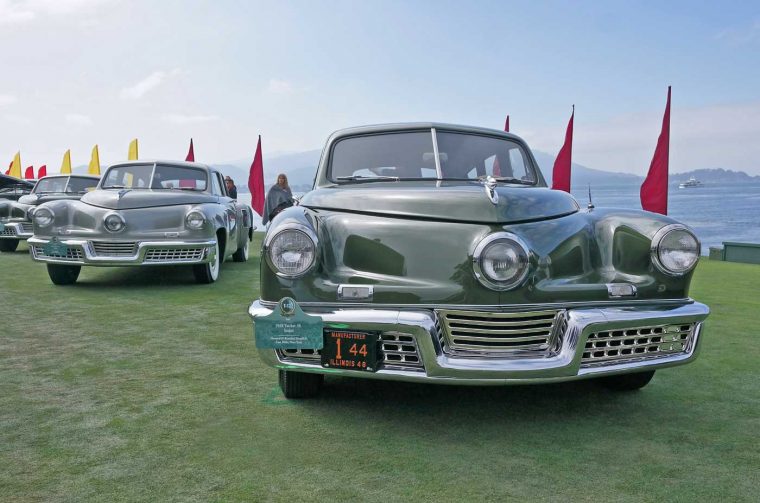 1948 Tucker 48 number 1044 is owned by Howard & Rosalind Kroplick, East Hills, New York
This car was recently restored by Rob Ida of Ida Automotive with the help of Preston Tucker's great-grandsons Sean and Mike Tucker, and completed just days before departing for Pebble Beach. It looks beautiful returned to the original Andante Green color with a green wool broadcloth interior. To stay as period correct as possible this car was shown with black wall tires for event, which seem to accent the forward motion design of the Tucker body style.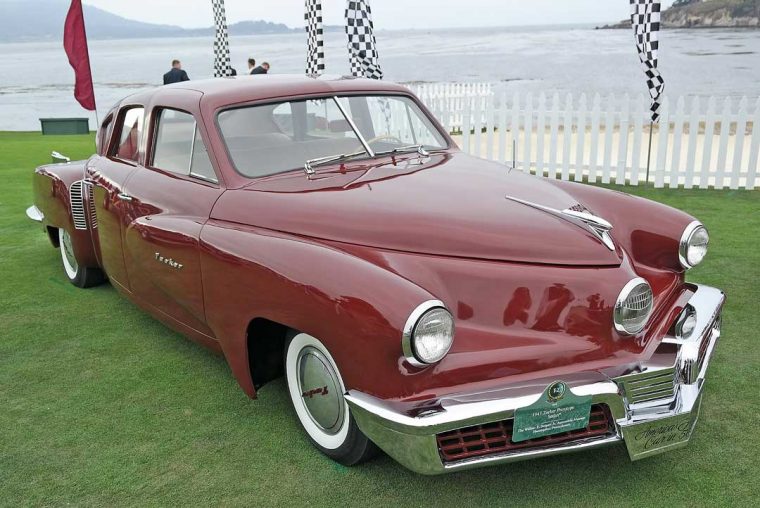 1947 Tucker "Tin Goose" prototype number 1000 from the William E. Swigart Jr Automotive Museum Huntington, Pennsylvania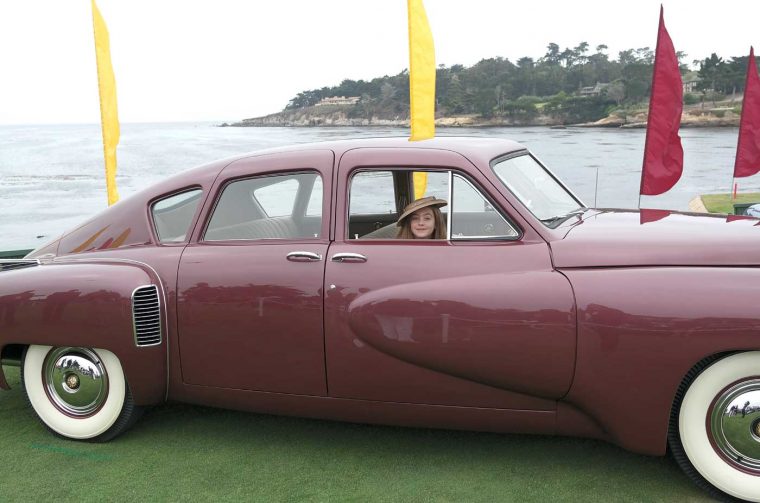 1948 Tucker 48 number 1003 from the Academy of Art University, San Francisco, California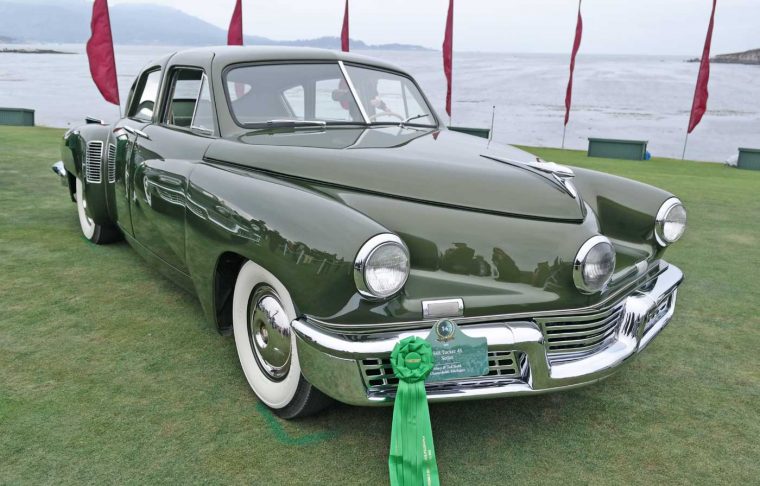 1948 Tucker 48 number 1015 owned by Mary & Ted Stahl, Chesterfield, Michigan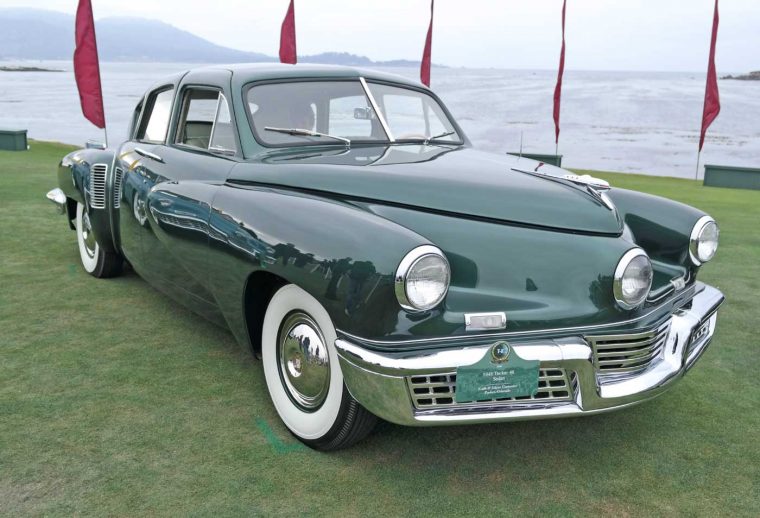 1948 Tucker 48 number 1017 owned by Keith & Eileen Carpenter, Parker, Colorado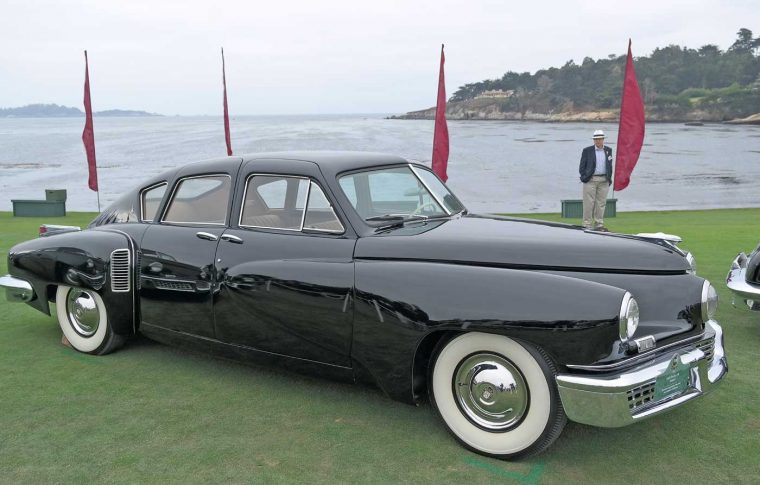 1948 Tucker 48 number 1030 owned by the Petersen Automotive Museum, Los Angeles, California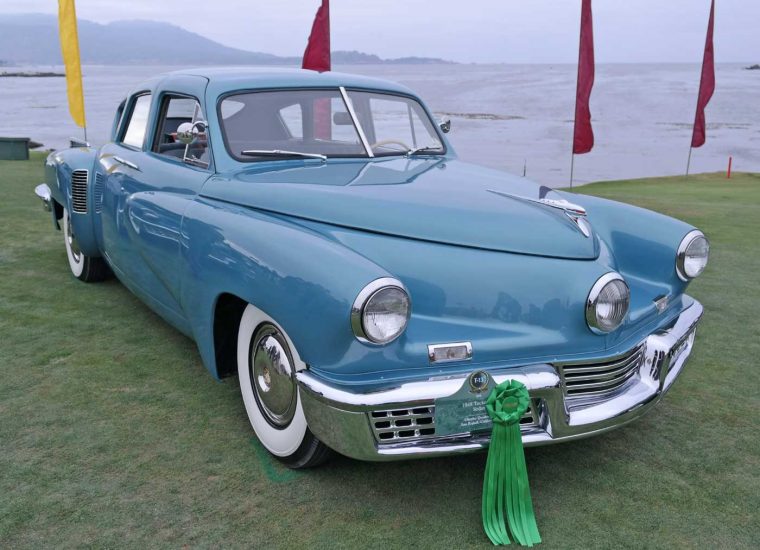 1948 Tucker 48 number 1049 owned by Charles Goodman, San Rafael, California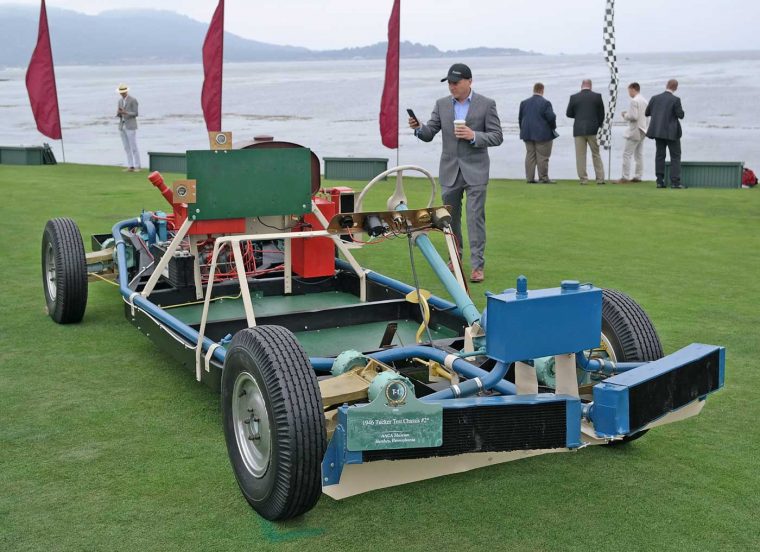 Test Chassis number 2 from the AACA Museum, Hershey, Pennsylvania