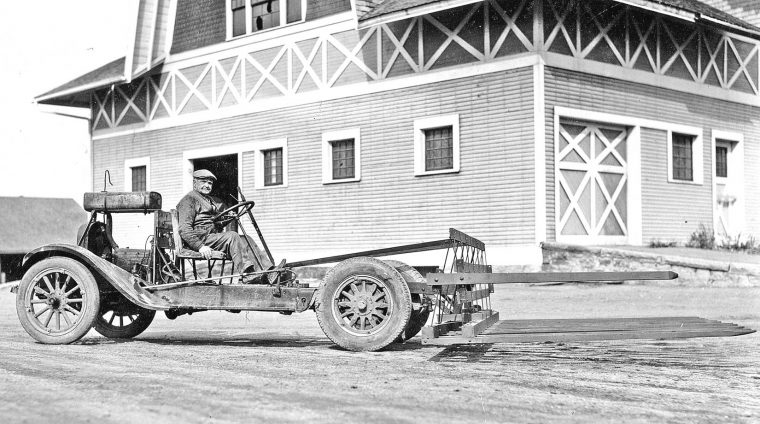 It has been said that "necessity is the mother of invention" and this pair of photos dated March 1, 1938, show a very innovative conversion of a Dodge Brothers four-cylinder chassis and drivetrain dating between 1915 to '26 into a mechanical hay rake proves that the adage can be it true.
To construct this rig a talented and sharp mechanic installed a worm and roller steering box, and wheel facing the rear in the middle of the Dodge chassis. By installing the pitman arm pointing upward on the box it reversed the arms regular front-to-rear motion. By the addition of a length of water pipe and two threaded couplers into the middle of the drag link, and cutting a hole in the fender for it to pass through the machine was converted to rear wheel steering.
The forward motion of the vehicle was handled by using the reverse gear and backing up by the use of one of the forward speeds in the transmission. A second clutch pedal was added next to the steering column which connected to the original pedal via a linkage that reversed its motion.
The balance of the conversion was fairly straightforward, and braking was handled by using the emergency brake and lever. The long hay rake of wooden and metal construction was raised and lowered by the use of the long handle located to the left of the steering wheel that incorporated a locking mechanism, and a forked linkage.
Share with us what you find of interest in the photos courtesy of the Colorado State College of Agriculture and Mechanical Arts.