For something, a little bit different today's feature image contains an excellent view of a Cleveland Railroad Inspection Car. The circa-1922 machine was constructed by the Cleveland Motorcycle Manufacturing Company located in Cleveland, Ohio (1902 to 'o5 and 1915 to '29). It is not known at this time if this was a production machine or a prototype.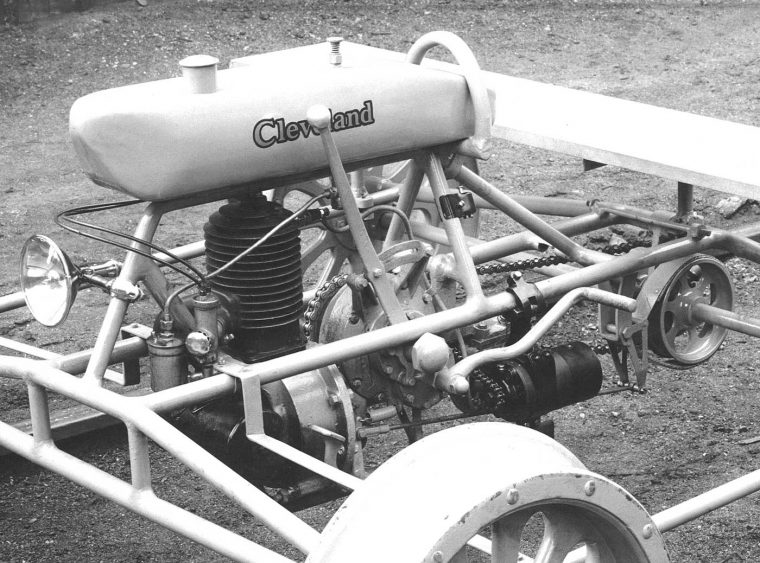 The power plant (above) appears to consist of a standard Cleveland 16.4 c.i. two-stroke engine backed up by a clutch and a two-speed transmission, followed by a shaft and worm gear drive to the sprocket shaft. The sizable horizontal lever on the lower left-hand center side of the machine is the kick starter. The transmission is shifted by a vertical lever on the side of the gasoline tank, the "handlebar" is located on the rear of the tank.
The frame and axles are a built-up weldment of steel tubing. The no-frills pre-OSHA seat is a piece of wood, and the foot rails are made of bent steel strap fastened to the frame by u-bolts. The rear axle brake assembly is actuated by a heel-operated pedal located on the left side of the crankcase. The massive built-up wheels acted as flywheels and consist of a pressed steel rim riveted to a substantial cast center section. Accelerating and stopping the machine is slow, much like its big brother, the locomotive.
Share with us what you find of interest in this photograph is courtesy of the Free Library of Philadelphia.