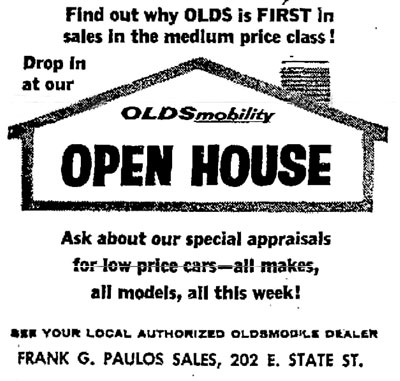 The Sleeping Bear Sand Dunes and beaches have long been a tourist attraction located in northwestern Michigan on the great lake named after the State. Louis and Marion Day Warnes began operating a fleet of cars on the dunes with four 1935 to '36 Ford convertibles equipped with balloon tires in the pre-war days.
The post-WW II fleet was a group of 1948 Ford convertibles. Later in 1956 ten red and white Oldsmobile Super 88 convertibles replaced the Fords. At least one Ford and two of the Oldsmobiles have survived. .
The lead image taken out in front Frank G. Paulos' Cadillac, and Oldsmobile dealership contains a line up of nine of the ten 1956 Oldsmobile Super 88 convertibles which replaced the eight-year-old fleet of Fords. The advertisement by the dealership (above-left) located in Traverse City, Michigan was found in the March 18, 1958 issue of the Traverse City Record-Eagle.
Share with us what you find of interest in the photos via contributor Benjamin Ames.