Today's lead image taken in 1929 of a section of the Auburn-Chicago Company showroom contains left-to-right a Stinson SM-8A Junior, a stand holding a Lycoming engine, and an L-29 Cord outfitted with the standard Cabriolet coachwork. E.L. Cord acquired a sixty percent interest in the Stinson Aircraft Company late in 1929.
The enlargeable full-sized version of the photo (below) shows an Auburn roadster on the far-right and the banners proclaiming that one of the new "Models" won a "Grand Prix" award.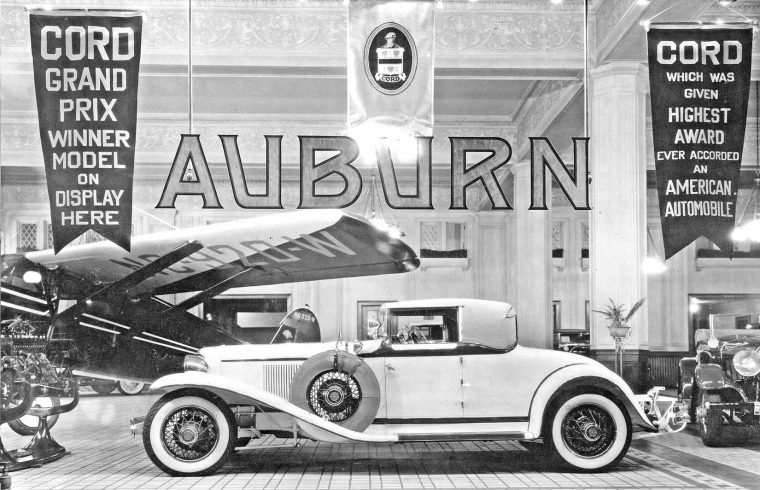 The actual winner (below) was a Count Alexis de Sakhnoffsky design produced by the Hayes Body Corporation located in Grand Rapids, Michigan. After completion the coupe went on a tour driven by de Sakhnoffsky and during the journey it won the Paris, Monte Carlo, and Beaulieu (UK) Concours d' Elegance "Medal of Honor" awards.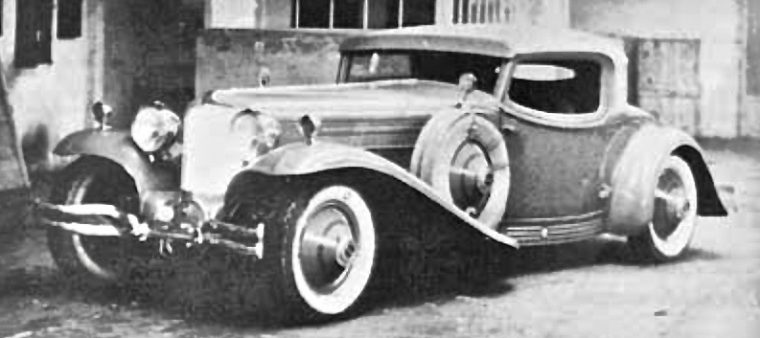 In addition to the pictures of the L-29 automobiles, included (below) are images of the front of the frame and kick-up containing the Lycoming straight-eight engine, three-speed transmission, front-wheel-drive assembly, and tubular axle. Following that are views of the framework, and the dropped rear axle, all of which clearly show how the Cord chassis engineers design led to the finished machine's low and attractive presence.
View earlier L-29 Cord articles on The Old Motor, and share with us what you find of interest in the photographs courtesy of the Free Library of Philadelphia. The picture of the Count Alexis de Sakhnoffsky designed show car is courtesy of Coachbuilt.com where more can be learned about the Count and the other coachwork he designed.