In the 1950s to early-'60s period the greater Los Angeles, California area was the home to many custom shops and repair and collision shops that also dabbled in "restyling" on the side.
Today's feature image taken in Los Angeles on an unidentified street includes a side wall covered with signage for a combination body shop, auto sales, and repair garage operation, which is next to California Style Customs and its paint shop. According to the photo source, Leon Hardwick operated all of the business' in both buildings.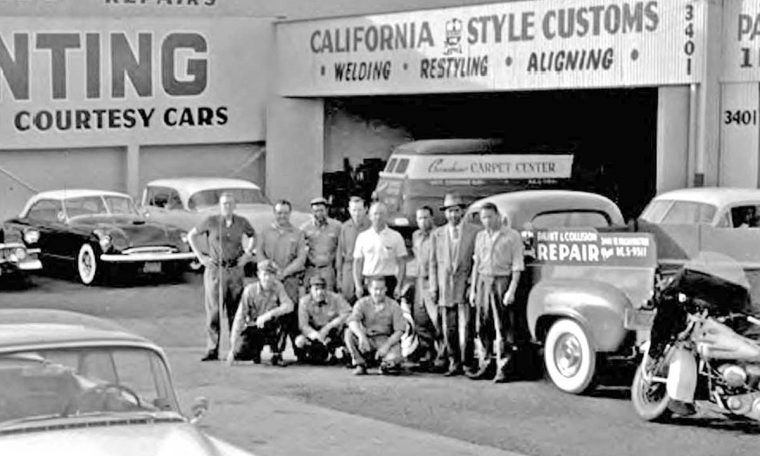 The shop crew posed for the picture in front of the "Restying and Paint" shop.
The customizing shop "restyled" automobiles and also performed welding and body and possibly frame alignment work on the left-hand service bay of the building. Behind the crew posing in front of the Studebaker pickup truck and Harley-Davidson Servicar is the "Paint Shop" located on the right-hand bay of this building. To the left of the crew (above) appears to be a customized Kurtis or Muntz Jet.
In the enlargeable version of the lead photo (below) is a customized mid-1950s Cadillac two-door hardtop. The front of the vehicle was updated with quad headlights, the hood was "nosed" (trim removed) and scalloped tubes added on each side of it. The grille was revised with a simple mesh pattern insert.
The back of this custom was altered with large tail fins added on the top of the fenders similar to the type of fin used on the 1957 to '58 Cadillac models. The rear end of the car was altered to accept different taillights, and the trunk lid may have been "decked" (trim removed) to match the hood.
Share with us what you find of interest in this photograph of courtesy of the CSUN Oviatt Library.