Today's feature image taken in late-1928 at El Paso, Texas contains an attractive 1929 Buick series 121 model 64 roadster with all new styling. The automobile is parked in front of the El Paso Buick distributor and sales agency with Jake Erlich, the "World's Tallest Man," accompanied by two female models; he may have been a salesman at the distributorship at the time.
This roadster is a silver anniversary model with optional wire wheels based on a 121-inch wheelbase chassis. It is powered by a 309.6 c.i. o.h.v. inline six-cylinder engine producing 91 h.p. fitted with a mechanical fuel pump for the first time; it is backed up by a multiple disc clutch and a three-speed transmission.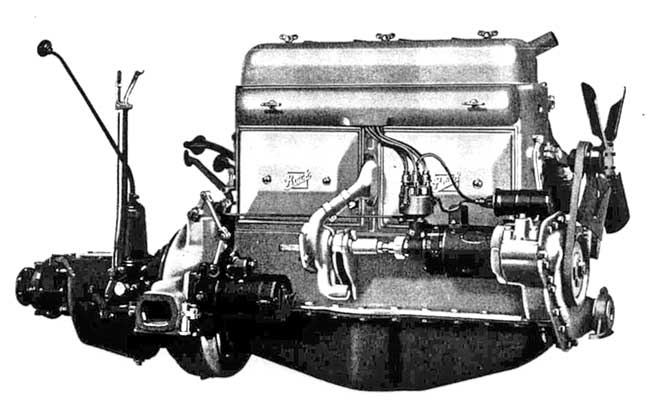 1929 Buick o.h.v 309.6 c.i. six-cylinder engine – "Motor Age" November 1928.
Jake Erlich was a well-known silent screen actor in the mid-1920s who's stage name was Jack Earle. Born in 1906 he and his family moved to El Paso, Texas from Los Angeles in 1913. He soon began to suffer from the disorder acromegalic gigantism and grew to a height of eight foot six and a half inches and gained the title "World's Tallest Man."
Erlich landed acting parts in a number of movies including the films "Hansel and Gretel" in 1923, and "Jack and the Beanstalk" in 1924. He traveled with Ringling Bros. and Barnum & Bailey and later became a salesman, he died at the age of forty-six in 1952.
Share with us what you find of interest in the expandable photograph below courtesy of the El Paso Public Library found via The Portal to Texas History.