By Adam Pepper:
Updated with more photos and information. On Sunday, September 30, 2018, following the Volvo Club of America National Meet held at the Stratton Mountain Resort in southern Vermont, quite a few particapants drove from Stratton to Bennington on the western side of Vermont to visit the Hemmings Motor News service station. Among them were three special, and very different Volvo 1800 Cars.
Scott Doering, YP of customer service at Volvo Cars USA, brought his original, unrestored 1962  Jensen built (assembled by Jensen Motors in the UK from 1961 to '63) P1800 to the meet. His tasteful changes transform the car into a period-correct grand touring machine. Very rare, magnesium wheels, manufactured by American Racing Equipment in the early 1960s change the look of his Jensen coupe. He plans to add a recently acquired Judson supercharger to the machine after a re-build.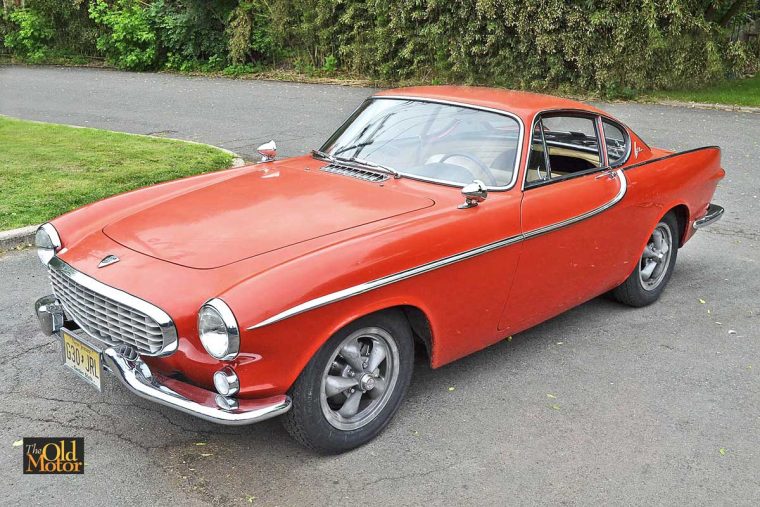 1962 Volvo P1800 owned by Scott Doering fitted with early magnesium American Racing wheels.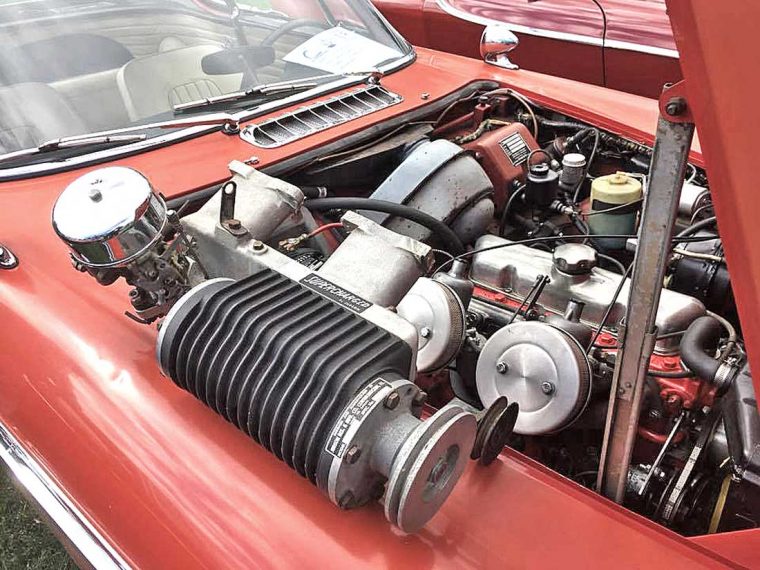 Scott Doering's un-restored Judson supercharger on display at the VCOA meet. The 1800cc Volvo four-cylinder o.h.v. engine with SU (UK) side draft carburetors is behind it.
I drove my 1967 1800S up from Ipswich, MA to debut it at VOCA Meet, and also to meet up with friends David and Scott and get all of the three 1800 coupes together.
This 1800S was raced from new in SCCA (Sports Car Club of America) F-Production class from 1967 thru 1976. I purchased it in 1987 from racer Frank Wilder, a Winooski, VT resident. I drove it for thirteen years and parked it when engine gave out at 120K. In 2007 I stripped it to a bare shell and started the restoration and rust repairs. Two body shops and nine years later, I began the re-assembly of the painted shell.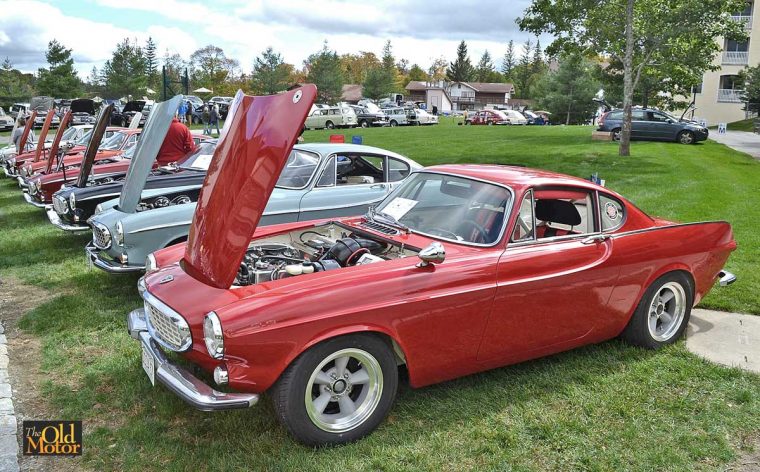 Adam Pepper's 1967 Volvo 1800s with a modified power train, suspension system. Note the racing roll cage installed in 1967 when the car was converted into a SCCA racing car.
The car is equipped with a post-1968 modified B20 (2000cc) engine (below) bored out to 2100cc. It is fitted with a Volvo R-Sport cylinder head, and intake manifolds, two Mikuni PHH44 side-draft carburetors, and a R-Sport air cleaner and a Stahl tubular header that feeds a Borla two-muffler exhaust. It has a modified suspension system fitted with 15 x 7-inch American Racing Equipment "Torq-Thrust" "D" wheels.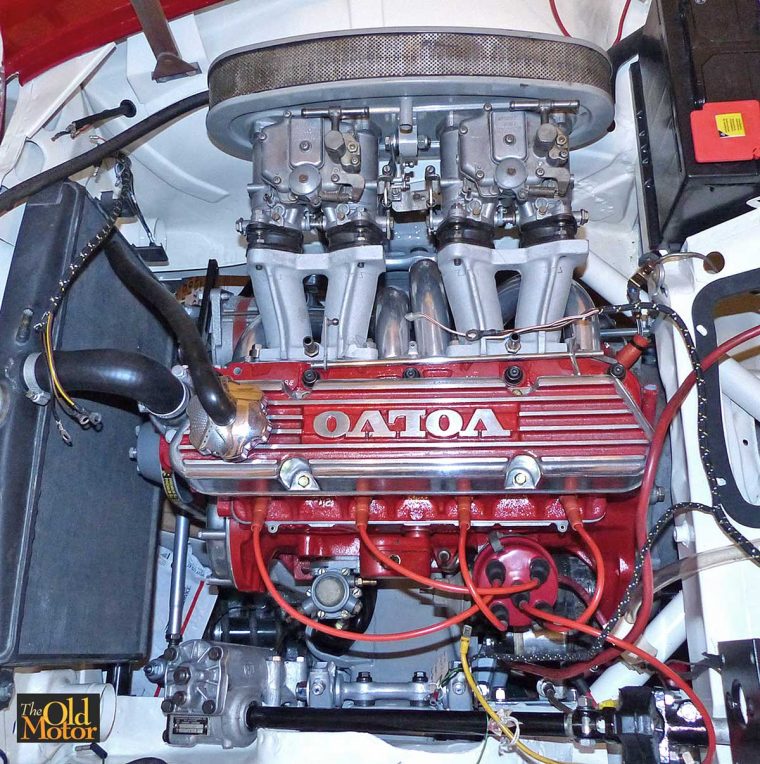 The high performance Volvo B20 engine bored out to 2100cc installed in the car with wiring and and fuel lines yet to be finished.
I had just finished getting the car road-worthy before the VOCA Meet, with only a handful of short five-mile trips to sort out the rebuilt engine, carburetors, brakes, suspension, wiring, cooling, etc.
The one-hundred and sixty mile ride to Stratton Mountain was unnerving for myself as I listened to every rattle, creak and noise; although traveling with three other club member's Volvos helped my confidence in the freshly-restored car. The car is rebuilt to it's original 1967 racing configuration, without sound deadening, carpet, inner panels or a headliner which results in a noisy ride; earplugs were utilized.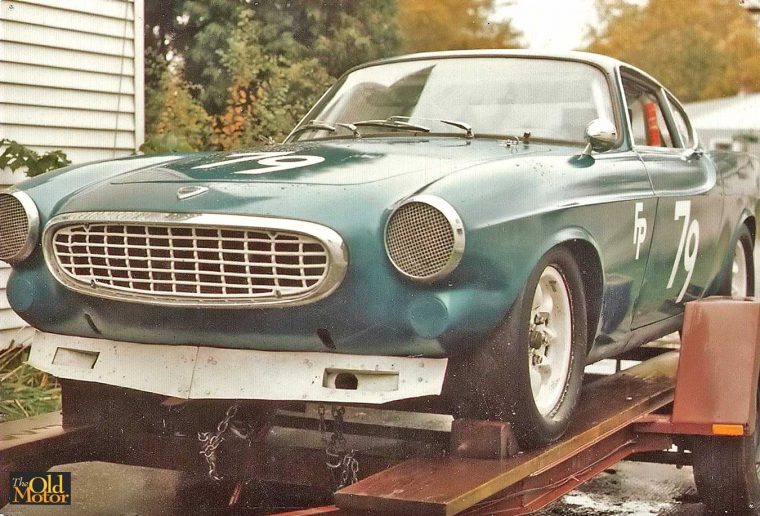 The car as raced by Charles Urschel and Frank Wilder between 1967 to '76. Adam Pepper is looking for any detailed photos or information during its racing career and the original SCCA logbooks.
The car was transformed into a racing car when near new in 1967 by Charles Urschel a dentist from Newton, MA, who raced it until 1970 in the SCCA F Production class. I purchased it in 1987 from racer Frank Wilder, a Winooski, VT resident, who raced the car in SCCA F/P from 1971 to 1976, when he retired from racing. I drove it for thirteen years and parked it when engine gave out at 120,000 miles.
David Greenlees drove his 1967 1800S over from the eastern side of Vermont to meet us; he was racing his car at the VSCCA (Vintage Sports Car Club of America) Fall Finale race meet at the Lime Rock Park Speedway in Salisbury, CT on Friday and Saturday and missed the VOCA Meet.
His Volvo 1800s captures the look and feel of an early, bumper-less racing 1800. The Halibrand Racing Equipment pin-drive wheels with knock off hubs are a visual treat, and the right-hand-side-exit racing exhaust system sounds like its all set for race day. David has more changes for racing in the works, including a roll-bar, posi-traction rear axle and Volvo R-Sport intake manifolds fitted with Weber DCOE carbs.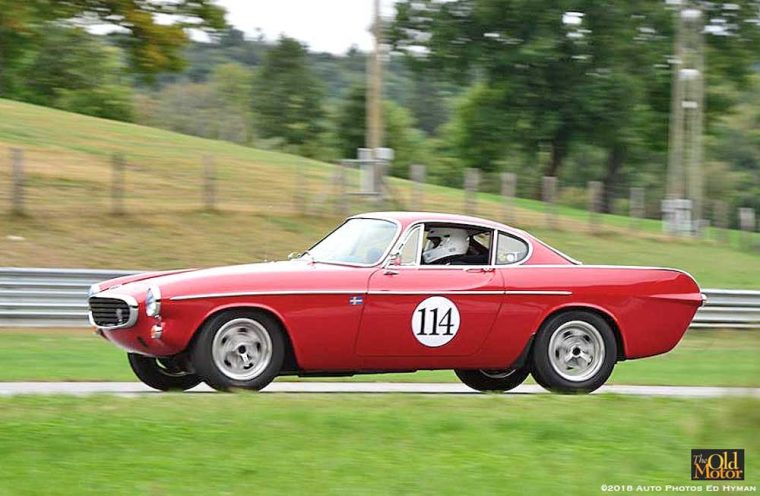 The Old Motor Editor's 1967 Volvo 1800s was racing at the VSCCA Fall Finale Meet at Lime Rock Park in CT during the first two days of the VOCA Meet.
David operates a restoration shop specializing in pre-1932 sports and racing cars, he gave me a short tour on the way back home and it is a gear-head's dream garage. He also publishes the online daily vintage automobile magazine "The Old Motor."
Volvo friends from California drove to VCOA Meet and joined us at "Hemmings Motor News." CJ Yother from Alameda drove a ten-year-old Volvo station wagon and Roger Fritch made the trip from Northridge in another wagon, a very nice 1968 122s nicknamed "Old Blu."
CJ's Dad raced the "Melrose Missile" one of the earliest A/FX (A-Class Factory Experimental) drag cars in the early 1960's. Talk turned to another old drag racer named Romeo Palamides, who founded American Racing Equipment which produced the racing wheels on Scott's car and mine own. Its a small world!
Share with us with what you find of interest in this article by Adam Pepper that is also in the current VCOA "Rolling" magazine. The photos are courtesy of Scott Doering and Edward Hyman of Autophotos.