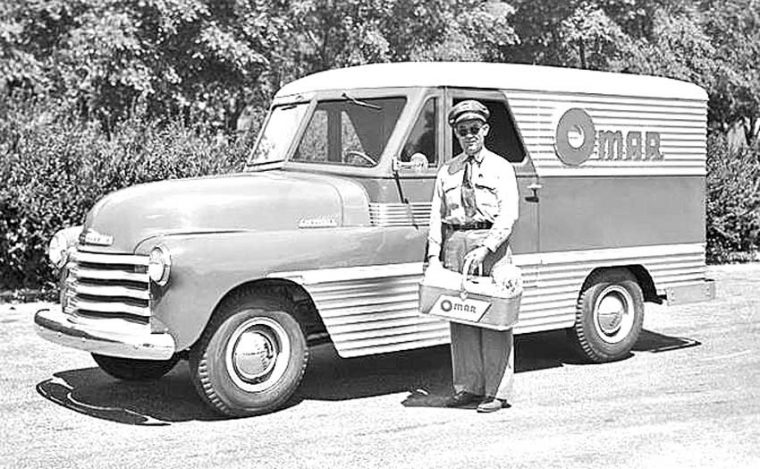 Beginning in the early-1900s to as late as the 1970s in most locations in the US, the automobile and later the motor truck were used for home delivery of baked goods, groceries, milk products, and other commodities.
In the Midwest, the Omar Baking Co. opened for business in Omaha, Nebraska in 1923 when William Coad constructed a building in the City for use as a bakery. Later Coad purchased the Lord Auto Co. building located at 17th and O Streets in Omaha and converted it into a branch location for the home delivery of baked goods by the "Omar Man."
Coad later opened other Bakery's in Indianapolis, Indiana, and Columbus, Ohio, in 1927, and a fourth, reported to be located in Milwaukee, Wisconsin at some point.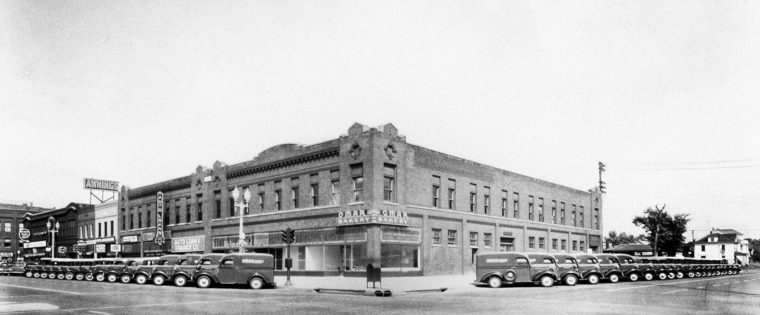 The first Omar Bakery branch location in Omaha, Nebraska with a fleet of Dodge trucks in 1940.
In the 1930s and '40s the Company was using Dodge vans for the delivery of its goods, and at some point switched to using standard Chevrolet "Advanced Design" panel trucks produced between 1947 to '55. This brings us to today's interesting lead image of an "Omar Man" holding a matching tote tray complete with trim posing with a Chevy light truck with an attractive and up-to-date van body.
This truck features streamlined and unique coachwork trimmed with extruded aluminum panels by an unknown maker for Omar. The construction brings to mind the General Motors Futurliners and leaves us to wonder if this truck was a one-off concept by GM for possible limited production, or was this design produced by an independent maker for Omar?
The lead photo is via contributor Benjamin Ames and the Omaha Factory branch image is courtesy of the "Lincoln Journal Star."