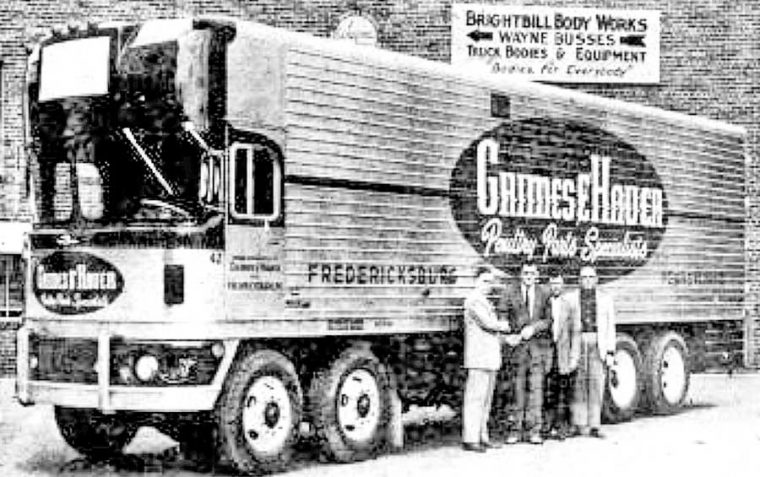 .In the early-1950s William L McCullough of Leighton, PA apparently used the earlier Fageol 1950 TC CargoLiner chassis design and updated it with a conventional single beam axle up front and a rear-mounted power plant to drive one of the rear axles (illustrations below) for his new concept vehicle. The one-off Fageol chassis used a swinging front axle and a mid-engine design. The lead image contains the revised and final third version of McCullough's unique new offering with an added front axle.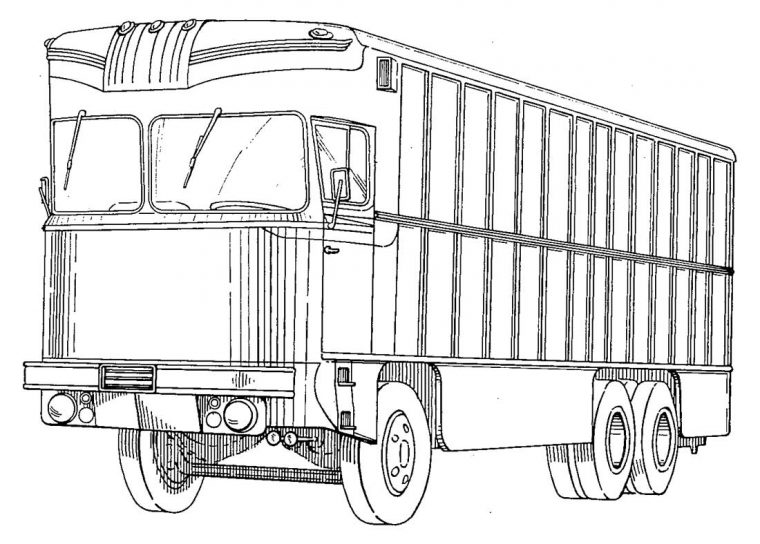 .

McCullough later updated the design of the three axle truck and filed a patent application in February of 1954 which was granted in 1956. In October of 1954 the inventor filed a revised and second patent application which he was awarded in October of 1958. His designs resulted in improved front end geometry, enhanced rear axle traction, and a power plant that could be quickly be removed from the rear end of the chassis for replacement or repair. However, is not known at this point if any three axle trucks were constructed.

.
At a later time, the inventor added a second front axle that increased the payload capacity of the rig. The advertisement (above) for the unique "Road King" states that this offering has a payload capacity of ten-thousand pounds higher than a heavier conventional tractor-trailer unit.
A possible second benefit of the McCullough truck was a higher overall fuel economy due the rounded front end of the body being more aerodynamic than that of a combined truck and trailer body. The overall fuel economy of 9.1 mpg stated in the ad may have reflected this advantage. The truck body was constructed by the Brightbill Body Works that was also the distributor of the "Road King" and continues to remain in operation today building school bus bodies in Lebanon, PA.
View a period photo of a "Road King," and a surviving truck that is located at the Museo del Transporte in Caracas, Venezuela.
Share with us what you find of interest or can add to this post.