Updated:  While perusing a number of new car dealership photos yesterday, a picture containing another view of one the six custom-built Packard "Pan American" show cars constructed by the Henney Motor Company came to light.
The lead image contains a view of the 1953 grand opening of the new and modern John Ramp Inc. Packard Dealership located at 1703 E 38th Street in Indianapolis, IN, and in it one of the "Pan Americans" is visible on the left-hand side of the showroom.
In addition the concept cars were on exhibit in the automaker's display at all of the large auto shows around the country and the world. The cars also made the rounds of many of the Packard agencies across the country. In this one instance, it was reported that "forty-five thousand visitors registered at the grand opening" and viewed, a "Pan American," the new "Caribbean" convertible and Ramp's new facility.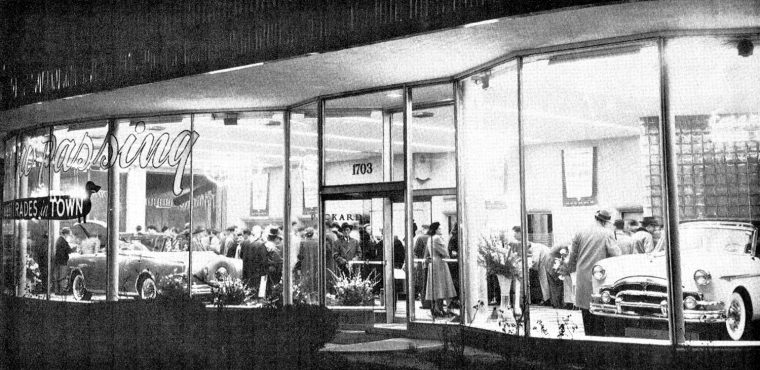 A view of the showroom with a "Caribbean" convertible visible on the left-hand side and a second open car on the right. The "Pan American" may have been situated behind the long line of visitors on the left. 
At the end of today's post is an advertisement for the Henney Motor Company, the coachbuilder that constructed the six cars wherein it takes credit for the design by in-house auto stylist Richard Aribib. The vehicle won the top awards at the New York and Los Angeles Auto Shows.
Learn more about the "Pan American" in an article by Leon Dixon at Hemmings Daily and share with us what you find of interest in these photos courtesy of Automobile Historian Alden Jewell.
Update: Thanks to Robert Kremer's comment we now know that the John Ramp Inc. building has been remodeled and survives.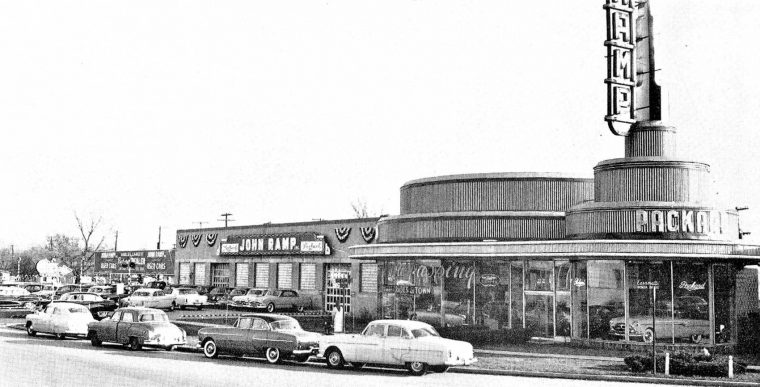 Enlargeable version of this photograph gives a better view of the "Pan American" and the facility – Below a Henney Motor Company advertisement of the concept car.