Today's lead image contains a 1934 Ford five-window coupe and a model being filmed by Ramsey Productions of Oklahoma City, OK.
Research covering the Production Company resulted in finding that Arthur Ramsey of Oklahoma City was a filmmaker, who produced newsreel movies in the 1930s and later was a captain of the Combat Film Office during WWII. He appears to be seated in the director's chair in this picture. A minute-long video (below) documents his career.
The reason why Ramsey was filming the Ford in the expandable photo (below) might have been to produce a short film clip advertisement shown in Oklahoma movie houses for the Fred Jones Ford Company in Oklahoma City? Jones was active as a Ford dealer from 1926 as late as the 1960s and operated one of the leading Ford dealerships in the world.
The successful businessman also formed the Fred Jones Manufacturing Company that went on to become the world's largest authorized Ford engine and parts rebuilder, the operation is still active today.
Share with us what you find of interest in the photos courtesy of the Oklahoma Historical Society.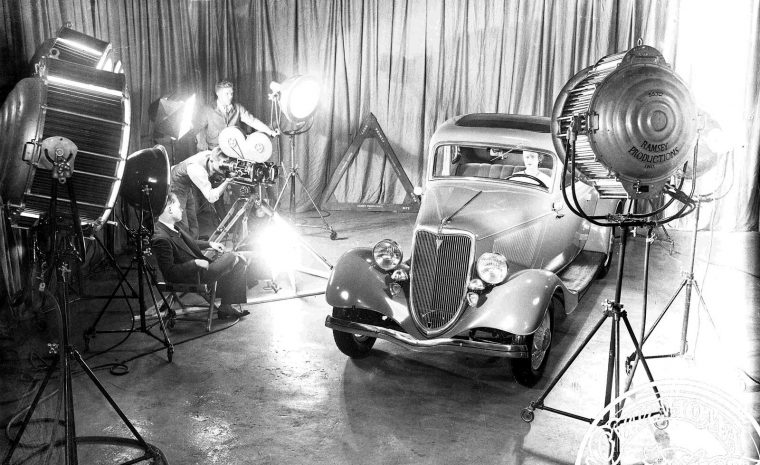 Ramsey Productions of Oklahoma City filming a 1934 Ford five-window coupe.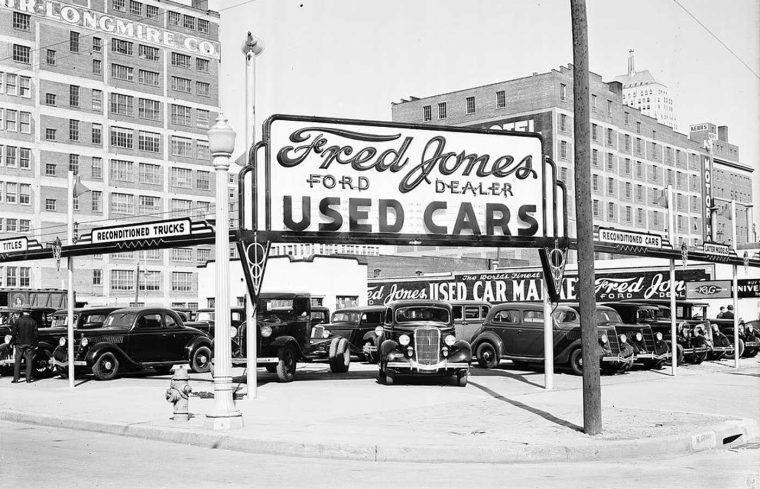 One of Fred Jones' used car lots in Oklahoma City, his Ford businesses at its peak covered six square blocks in the City – Below a short video about film maker Arthur Ramsey.