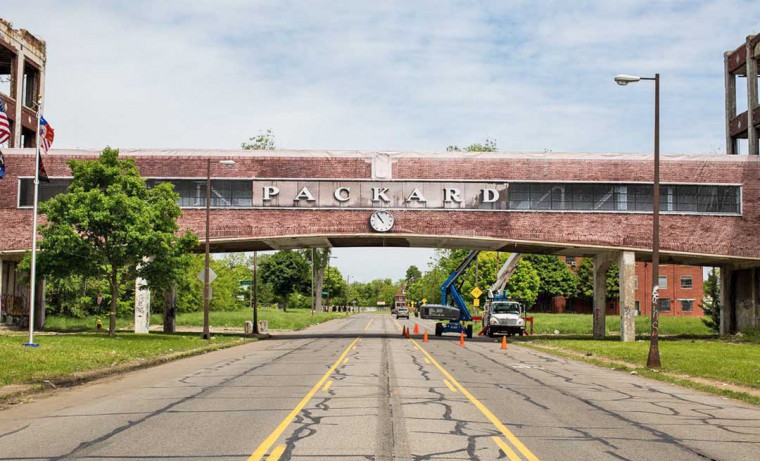 Updated: Thanks to a tip from contributor Benjamin Ames we have learned that after bricks began to fall off the important signature structure yesterday on Wednesday January 23, 2019 the Packard Plant Bridge, built in 1939 was completely destroyed later in the afternoon just after four PM when the center two-thirds of the landmark crumbled and crashed to the ground on Grand Boulevard.
The lead photo above via Arte Express the owner of much of the Plant complex shows the bridge after it was wrapped in a likeness of itself several years ago. The photo below after the videos shows half of the span pictured in 1954.
You can view our series of twelve earlier posts covering the effort by Arte Express to clean up and stabilize some of the buildings.
The lead photo (above) of the deteriorated Bridge above shows a wrap installed on several years ago that it was still on the structure at the time of the collapse.
Video produced by Local 4 covering the loss of the bridge and the clean up operation.
View the video (below) where Joseph S Kopietz Arte Express spokesman talks about the events leading up to bridge collapse.
A view below of close to half of the Bridge that was fourteen years old when this 1954 Packard (below) was photographed late in 1953.