Grandfather Mountain, a popular tourist attraction is located in northwestern North Carolina close to the border with the state of Tennesse and about six miles east of Linville, North Carolina. The Mountain rises 5966-feet above sea level and the famous "Mile High Swinging Bridge" is located at the summit.
In June of 1954, a group of sports car enthusiasts organized the first annual Grandfather Mountain Hill Climb that started at its base. The run traveled 2.7-miles up the very challenging gravel road lined with rocks, curves, and switchbacks end at the top, the location the well-known Bridge.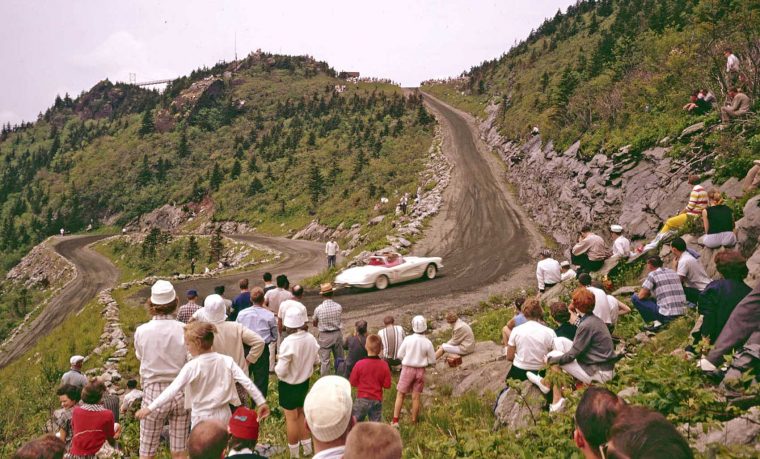 Corvette rounding the last corner on the run up to the Mountain summit – note the "Swinging Bridge" on the left-hand top portion of the photo.
Later in 1955 the group formed the North Carolina Region of the Sports Car Club of America (SCCA)  and continued to run the event until 1961. The Hill Climb was not held again until about 20 years later in the early-1980s before it finally ended in the late-1980s.
The lead image and the enlargeable version of it (above) and a picture of a blue Jaguar XK-120 roadster (below) were taken post-1958, and are followed by a short film on a video of the action on the Mountain in 1960. Below the film are eight more color and black and white photos taken at the 1958 running of the Hill Climb.
Share with us what you find of interest in the 1960 film clip and the photographs courtesy of the East Carolina University Collections.
Learn more about Grandfather Mountain and the post-war history of automobile use on its road.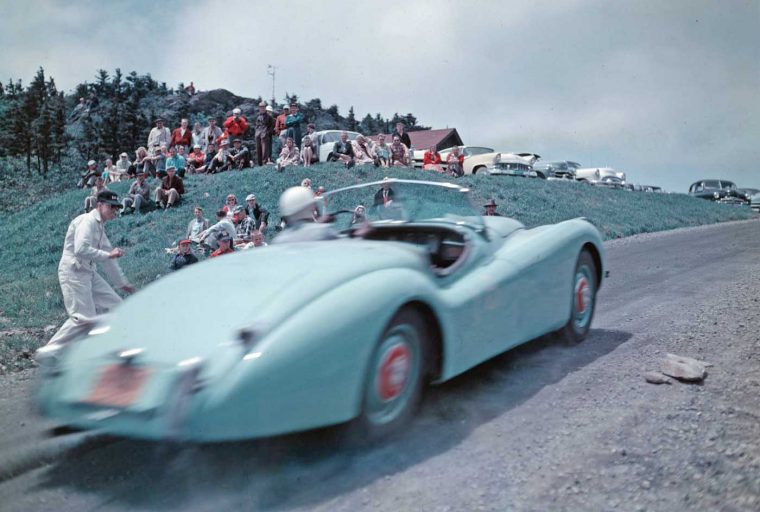 XK-120 Jaguar roadster after crossing the finish line and about to enter the parking lot at the summit.
Short one-minute film clip of the 1960 running of the Grandfather Mountain Hill Climb.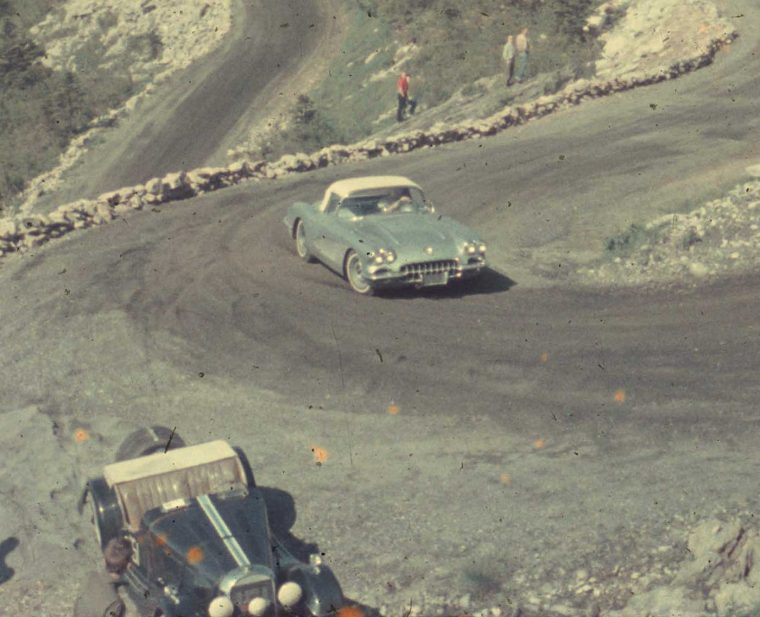 And finally to end the coverage are eight color and black and white images taken at the 1958 running of the Hill Climb. Leave a comment about what you find of interest in this set of photos or the name of any of the participants or car owners.