Today's lead image dated to November 6, 1934, by the source, shows either a 1934 or '35 Chevrolet "Knee-Action" promotional car equipped with it parked in front of the St. Louis Monument located in Forest Park at St. Louis, Missouri.
This form of independent front suspension was developed by Andre DuBonnet, and Chevrolet's version of it pictured (below) was offered on some 1934-'38 models. It was a very advanced system, although in use it required a considerable amount of maintenance and repair. Overall it was not a success, due to the automaker rushing its version of the system to market without enough development and testing. This in turn led to many of the cars equipped with it being converted to the standard Chevrolet I-beam axle with semi-elliptic springs as used on other models.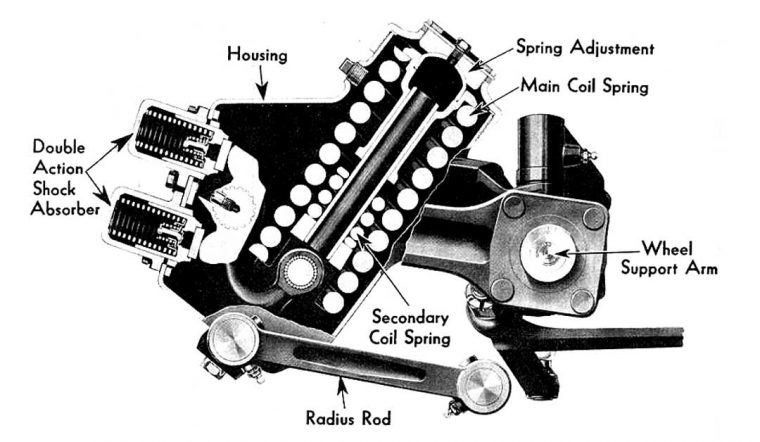 Cross section of Chevrolet's "Knee Action" – "Automotive Industries" May, 1935.
View our earlier exclusive article "Andre Dubonnet Car and Prototype Chassis Images" that covers DuBonnet's patented suspension system, prototype chassis, and a very unique one-off automobile he had constructed to demonstrate the system to automakers.
"Take it Easy" a video (below) covers this Chevrolet suspension system and also explores the interesting history of automotive suspension systems including springs, the pneumatic tire, and shock absorbers.
Share with us what you find of interest in this article and the lead photograph courtesy of the Missouri Historical Society.