Updated: The Graham-Paige automobile was introduced in 1927 by the three Graham brothers, Joseph, Robert, and Ray. Their first involvement with motor vehicles was building truck bodies and conversion kits that would turn a Model "T" Ford into a truck in the late teens. In the early twenties, the brothers designed and began to manufacture their own Graham Brothers Truck. After a period of time and following an agreement with the Dodge brothers, the Truck ended up being powered by Dodge four-cylinder engines.
Later in 1925 Dodge bought out the three Graham brothers who then worked in high-level management positions with the automaker. Two years later the Graham's left Dodge and purchased the Paige-Detroit Motor Company that manufactured the Paige and Jewett automobiles.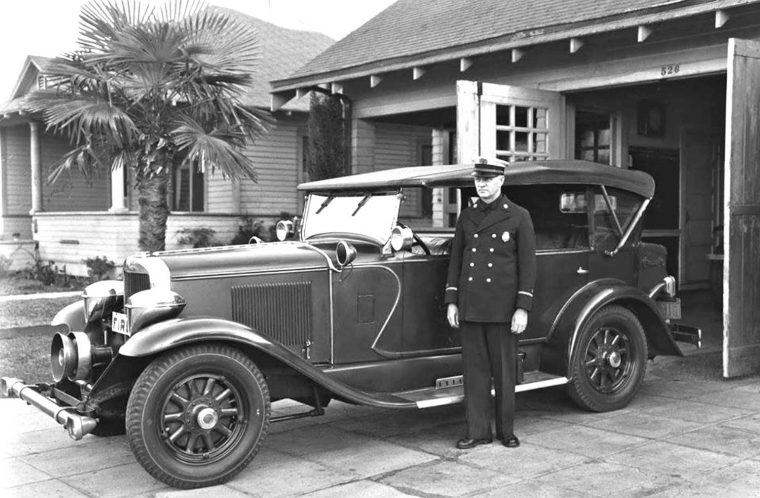 The newly designed 1927 model was named the Graham-Paige. The well-made lower to mid-priced six and eight-cylinder models were popular and sold well.
During the 1928 to '29 production run the Graham-Paige was only offered as a touring car in the 1929 model year and this Fire Chief's car is a a 1929 Model 629 on a 127″ wheelbase chassis with hydraulic brakes. It is powered by a 190 c.i. Continental L-head six-cylinder engine producing 62 h.p. that was designed by Graham-Paige engineers and backed up by a four-speed Warner transmission.
Based on the palm tree in the background and the similar appearance of this 1928 Chrysler Los Angeles Fire Chief's Car also fitted with Woodlite headlights it appears this photo was taken in Los Angeles. This Graham-Paige, however, is equipped with a "Bright" front bumper.
Learn more about the Paige and the Graham-Paige here. The photo was found via Keith Sparks.
Update: Thanks to reader Michael E. Keller it is now known that this image is from the Long Beach Fireman's Historical Museum Photographs Collection in the archives California State University. The unidentified fire chief is standing outside Station No. 3, located at 526 E. Anaheim St. , Long Beach. The station was destroyed in the 1933 earthquake.  The Graham Paige phaeton is a Model 629 with LeBaron coachwork.