Today's feature image is a view of the Walker Tire Company which was located at 501-503 East Market Street in the city of Charlottesville, Virginia. According to the opening date listed in the photo caption, the General Tire shop and filling station selling Acto gasoline had been in business for nine years when this picture was taken in 1932.
To the right of the employees standing out in front of the service station is the Companies circa 1929 to '31 Chevrolet roadster pickup truck, to its right is a 1931 Chevrolet sedan, followed by a 1932 Chevrolet sedan; on the far right is a 1927 to '29 LaSalle sedan. A 1930 to '31 Ford coupe is parked next to the gasoline pumps.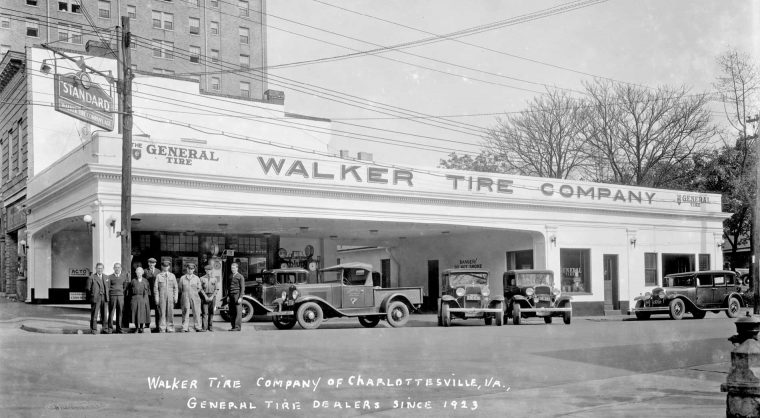 The image (below) is a view of the engine machine shop at Charlottesville Motors Inc. located at 322-328 West Main Street in the City. The only engines and parts visible in the picture are for Ford "flathead" V-8 motors, and at this point it is not known if Charlottesville Motors was a Ford dealership or a Ford engine rebuilder.
Specialized equipment visible in the photo is left to right two KR Wilson engine stands (the company manufactured specialized Ford tools) and the man in the white coat at the second one is operating a small cylinder reboring machine on a cylinder block. The boring "bar" is mounted on top of a special KR Wilson machined plate with stands that is positioned over the cylinder head studs on the engine block. This spacer allows the cylinders to be rebored without having to remove any of the many head studs on both banks of the V-8 block.
On the far right of the shop on a steel table is an early Sunnen honing machine used for dry honing (an abrasive process.) With different sized mandrels which rotate placed in the machine, both new wrist pin bushings and the lower end of a connecting rod can be finished to a standard size or an oversize at very tight tolerances. You can learn more about the connecting rod reconditioning processes performed here at The Old Motor machine shop.
Share with us what you find of interest in the photos by Ralph W. Holsinger courtesy of the University of Virginia Library.