February 2, 1941 was the day that World Heavy Weight Champion (1919 to '26) Jack Dempsey's 1924 Rolls-Royce "Silver-Ghost" saloon was turned into the United States Wrecking Co. to be scrapped. The Wrecking Yard was located at 1728 Washington Avenue in Minneapolis, MN, and these images of it were taken by a staff photographer for the Minneapolis Times-Tribune. It is possible that the Hennepin County Library that has these photos in its collection misdated them when cataloged and the pictures were actually taken a year later in 1942.
The US entered World War II on December 8, 1941, the day after the attack on Pearl Harbor and shortly afterward scrape drives began to support the War effort. Americans from all walks of life felt it was their patriotic duty and contributed unused cars, trucks, machinery, metals, and rubber.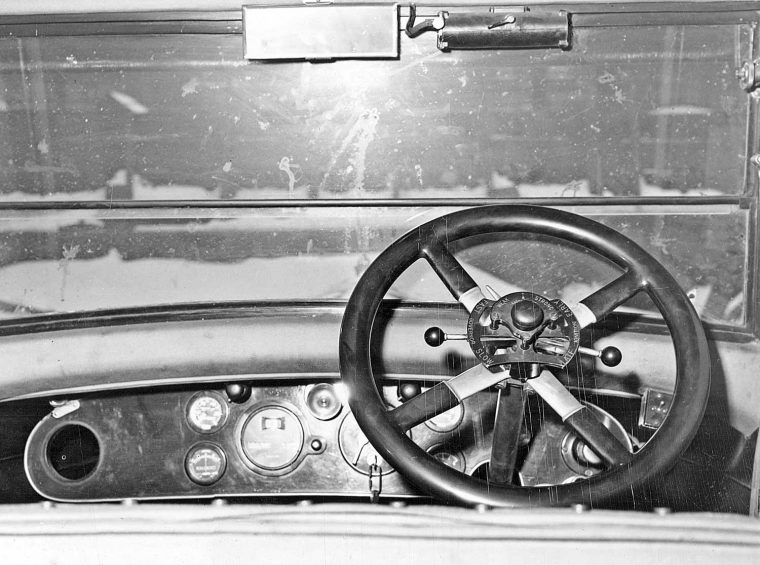 Expandable views of the drivers compartment (above) and (below) the 1924 Rolls-Royce "Silver-Ghost" saloon. 
The Boxer, still a celebrity at the time or whoever owned the seventeen-year-old car apparently turned in this Rolls as a high-profile donation to bring attention to the scrap drives.
Later on June 8, 1942, Dempsey supported the War effort by accepting a commission as a lieutenant in the US Coast Guard Reserve in New York City as the Director of Physical Education. He was later promoted to a Commander and spent time on a number of warships including the USS Arthur Middleton during the invasion of Okinawa in 1945.
Share with us anything you can add to this post or find of interest in the photographs.