While finding the photos for the recent post covering the EPA Documerica Project, a number of other interesting photos of wrecking yards turned up along with this well-known image of a Kar Press car crushing machine. A bit of research led to the "Los Angeles Times" where this photo by Larry Sharkey for the newspaper originated from along with a January 26, 1972, the story about the Kar Crusher image.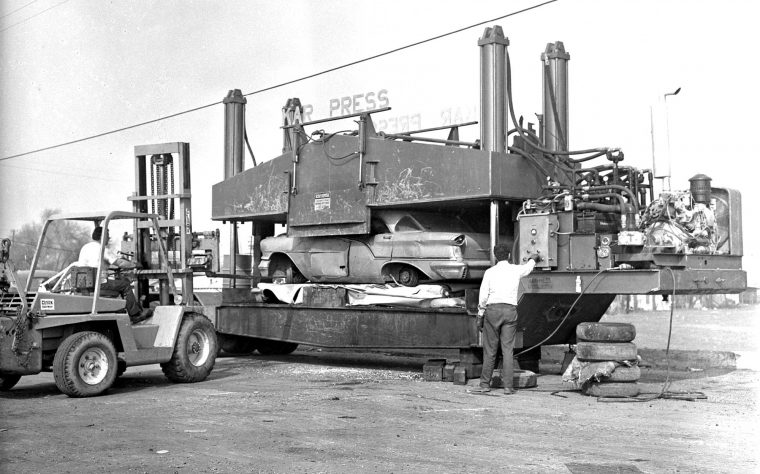 The short version of the story is; the portable machine was brought to a wrecking yard in the City of Lynwood in Los Angeles County by the Scrap Disposal Co. There the firm crushed one-hundred totally intact vehicles (shown above processing a 1957 Oldsmobile) which made it easier to transport them on flatbed trailers to its processing facility in San Diego, CA.
After arrival, the hulks were unloaded and fed into the company's metal shredder and the metal then sold and shipped to Japanese steel mills for reprocessing and sale to the country's automakers and other manufacturing industries.
Share with us what you find if interest in this story or any information about the "Kar Press." View an interesting Motor Trend Channel video of how a modern You-Pick Parts salvage yard in Sun Valley, CA, processes its junked cars.