This interesting set of images was taken by photographer Roman B.J. Kwasniewski on October 7, 1923, after Jack Matte and his riding mechanic won the 1923 Wisconsin State Dirt Track Racing Championship. The photos apparently were taken in front of a house that he and his family lived in at 840 Grove Street in Milwaukee, Wisconsin.
Matte's racing car chassis and drive train was made up of modified Model "T" Ford parts and components. The front of the frame were modified and a pair of semi-elliptic springs were substituted in place of the single Ford front cross spring. In the rear, the frame was shortened and the cross member moved forward and mounted on Z-shaped brackets; both of the changes lowered the frame about four inches. The primitive Ford planetary gear steering was replaced by a conventional steering gearbox and column.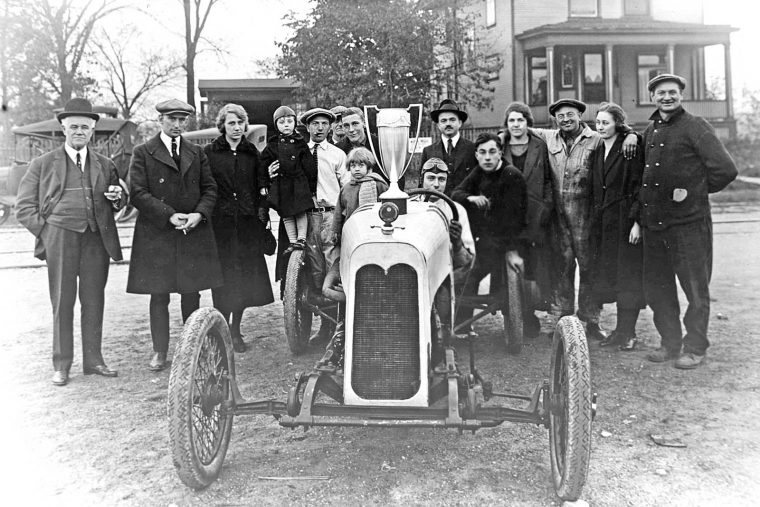 Family and friends gathered around the car, Matte's riding mechanic appears to be the man standing to the right of the car wearing light colored overalls covered with oil and grease stains.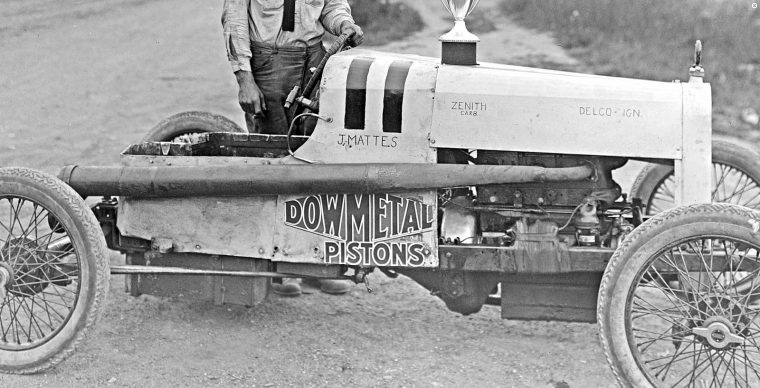 Close up view of the car shows the modified early Model "T" engine equipped with a Frontenac Model "R" overhead valve cylinder head, Delco ignition, and an added deep sump oil pan.
Matte apparently was sponsored by "Dowmetal" Pistons or a distributor (Dow Chemical Co.) which manufactured lightweight magnesium alloy pistons. Matte continued to race until 1927 when he died of injuries sustained by a crash through the wooden guard rail at the Milwaukee State Park Speedway one mile dirt track.
Share with us what you find of interest in the photographs courtesy of Milwalkee Polonia or can add to this post.
Learn more about early Ford Model "T" base racing cars at our earlier series: Model T Ford Speed and Racing Equipment.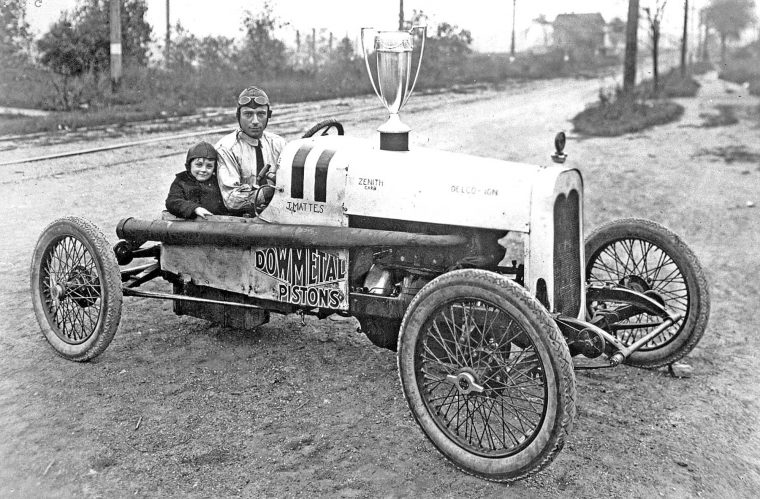 Side view of the car shows the pin drive wire wheels, and the added Hartford friction shocks.