We are back in the Milwaukee, Wisconsin area once again today with a set of racing-related images taken by photographer Roman B.J. Kwasniewski in 1920 next to a park. The Model "T" Ford-based specials apparently were constructed by the young men sitting in them and are fitted with attractive speedster bodies and accessories built by the Bub Body Corporation of Milwaukee.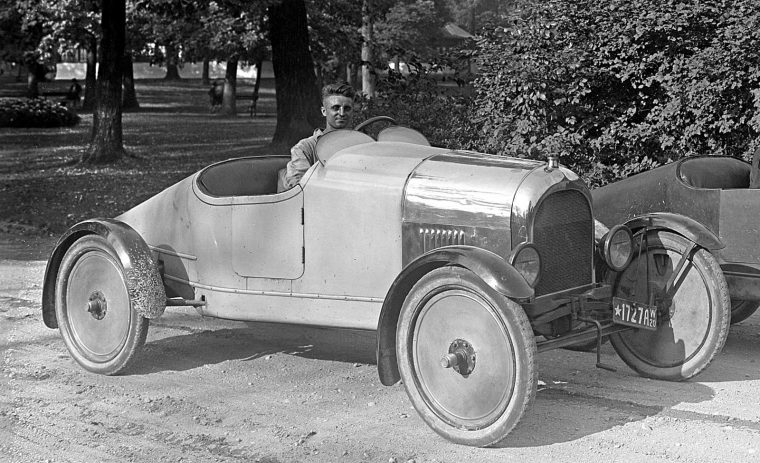 This light-colored machine is equipped with all of the Bub accessories including a set of cycle fenders, and wind deflectors on the top of the cowl. The original non-detachable rim Ford wood spoke wheels are covered with Bub two-piece sheet metal wheel covers attached the wooden spokes and wheel fellows with screws. The polished aluminum hood and the nickel-plated steel or alloy radiator shell, and the wind deflectors give this Bub speedster a British or European look.
The front axle of this car is moved out in front of the frame and the chassis is lowered about four-inches by the use of a heavy bent and twisted steel strap that the transverse spring is attached to.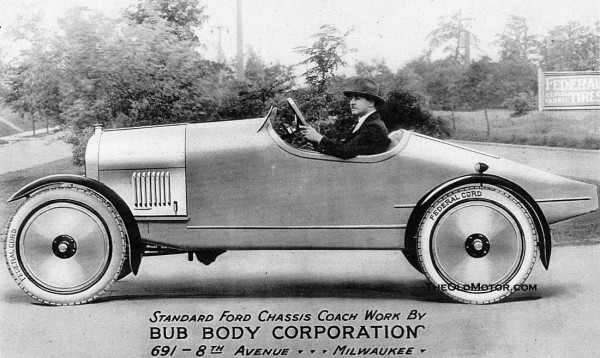 Bub Body Corporation advertising post card, note the running lamp on the rear fender.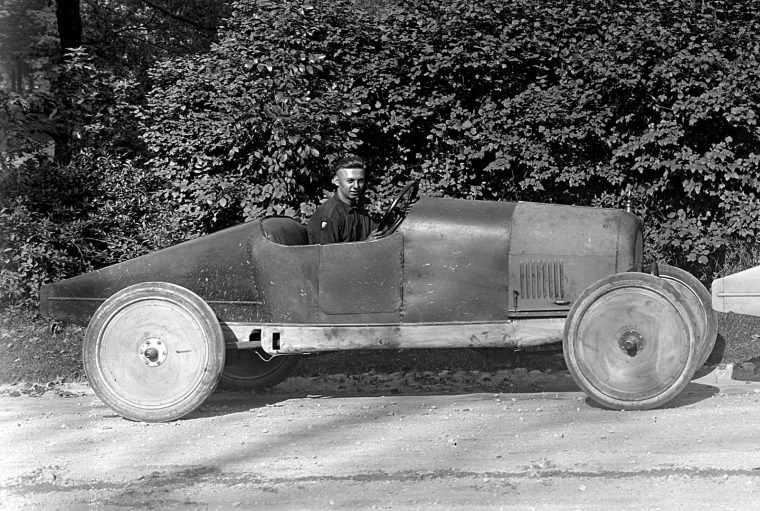 This second speedster appears to be older (and dirtier) and apparently was equipped with an aftermarket steering column or one from another make of car. The steering wheel is larger in diameter, lower and located closer to the edge of the cowl than the other car. The frame side covers are also slightly different than the those on the other car and are one-piece. Another photo of the light-colored car shows a vertical seam and a row of fasteners in the frame cover below the front of the trim molding on the bottom of the body.
Learn more about the Model "T" Ford racing car in our Five-Part "Model T Ford Speed and Racing Equipment" series.
Share with us what you find of interest in the photographs courtesy of Milwaukee Polonia.