B-izarre: strikingly out of the ordinary: odd, extravagant, or eccentric in style or mode: involving sensational contrasts or incongruities. We do believe that some of these definitions apply to the curious attachments on the vehicles contained in this set of photos taken in the Beaver State in the late-1910s and 1930s.
The 1936 Ford sedan delivery in the lead image belonged to the US Department of Agriculture Bureau of Entomology and Plant Quarantine. The clever bug catcher attached to the front bumper was kind of a supercharged version of a handheld sock attached to a stick used for catching insects. It leaves us to wonder how many bugs per gallon it was capable of catching.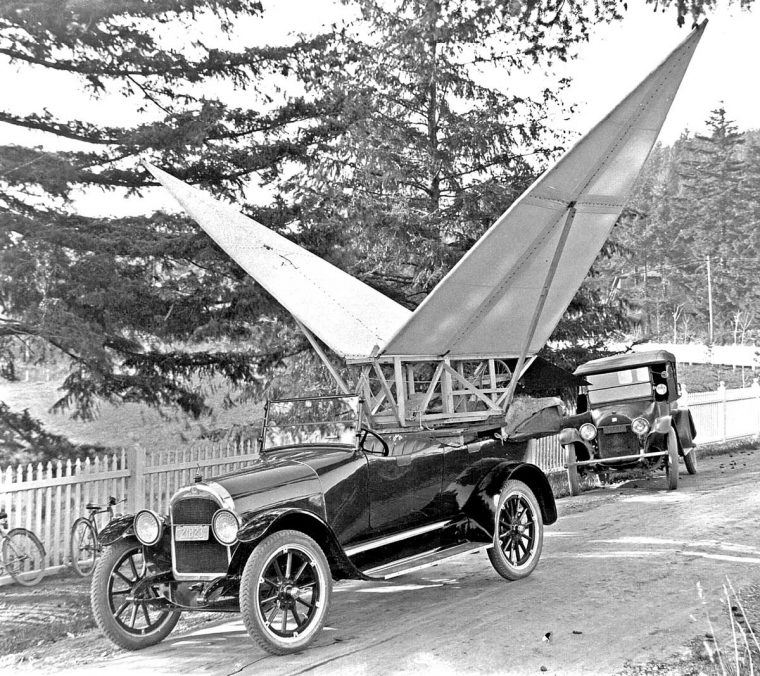 This second set of photos leaves us to ponder what the individual who put a set of fixed wings on this late-teens Moon touring car in 1919 trying to achieve? If it was attracting attention we think he succeeded brilliantly, although if you check the last picture (below), in use his wings did not end all that well. We believe this gentleman was also trying to start a new fashion trend at the time, note the cutoff legs on his overalls over another set of pants.
Share with us what you find of interest in this set of photographs courtesy of the University of Oregon Libraries.