The history of the Ford Motor Company River Rouge Plant has been covered here in the past. Starting today we will be featuring photos of the Complex in a new series of images covering interesting scenes at the Plant, on the assembly line, and views of the equipment and machinery.
We start out here with the lead photo, an enlargement off Edsel Ford's T-99 speed boat visible (below) racing by the complex on the River Rouge. Edsel was a power and sail boat enthusiast and owned a number of them in his time, and even commuted back and forth from home to work with his boats.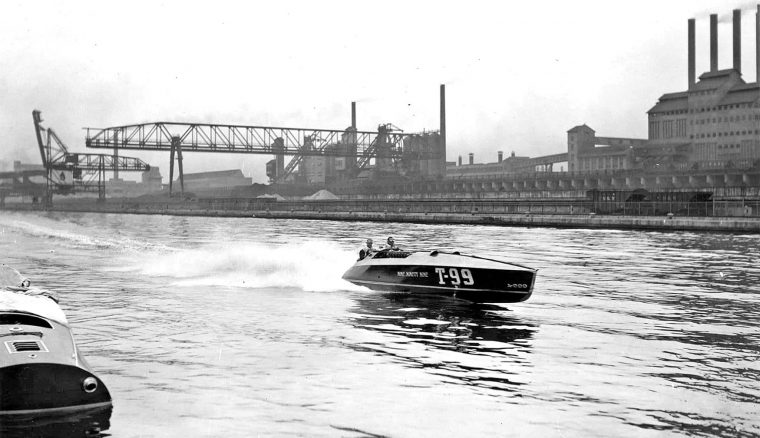 A brief search to find more information about the T-99 did not turn up much other than what kind of engine the boat may have been powered by. It was found in a quote in Chapter Seven "150-Mile Race – Gar Wood and the International Sweepstakes Races 1923-26" in "Speed Boat Kings" by J. Lee Barrett  covering the purse for the first race:
"Ford was interested. His son, Edsel, had been experimenting with some converted Liberty engines (in his boats.) Walden (Colonel Sidney D. VP of Packard) pointed to the Indianapolis automobile races as a laboratory of engine development. "We want the same thing in the marine field," he said. "We want to develop boat engines."
Learn more about Edsel's boat house and the watercraft he owned in "Boat House Part I" (below) produced by the Edsel & Eleanor Ford House. 
Share with us what you find of interest or can add to this post and the photograph courtesy of The Henry Ford.