In the early-1950s when the US Interstate Highway System was still yet to come, Walt Disney, who began planning to build Disneyland in 1948 decided to incorporate "Autopia" in the amusement park he was building at Anaheim, CA. This highway of the future ride was constructed at the new park and traveled by miniature two passenger self-propelled cars.
When Disneyland opened in July of 1955 modified versions of the prototype Mark I designed by Bob Gurr featured in the lead image transported the driver and a passenger along the "Autopia" roadway. The lead image shows Gurr putting one of the the first prototypes through its paces during the testing phase.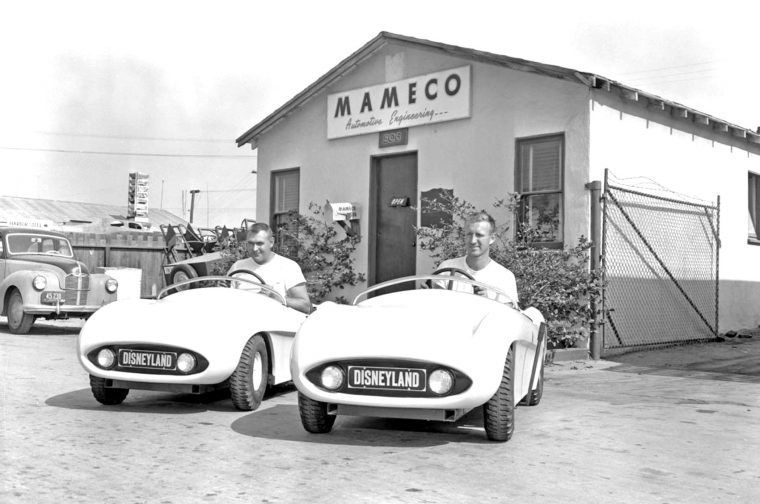 The steel tube and channel framed car was covered with a fiberglass body and propelled by a one-cylinder-rear-mounted-air-cooled gasoline engine fitted with a centrifugal clutch. When the gas pedal was released by the driver the brakes are automatically applied or could also be actuated by the side-mount hand lever.
The fiberglass bodies where produced at Glasspar, a boat builder that also made kit car bodies in Costa Mesa, CA. The cars were assembled at Mameco Automotive Engineering in Newport Beach. Front, rear, and side mounted bumpers were added to the production models to help preserve the bodywork. Learn more about the Mark I cars and the "Autopia" highway at Undiscovered Classics.
Share with us what you find of interest in the photographs courtesy of the Orange County Archives.