By David Greenlees: In upper echelons of auto racing the pressure to win races and championships is intense. Automakers, team owners, chief mechanics, and engineers sometimes bend the rules in a calculated risk to gain an advantage over their competitors to win, and afterward, hope that they can get away with it without being caught.
We will be sharing with you photos of exotic and extremely expensive engine components used in NHRA Championship Drag Racing Series in the 1970s, and NASCAR Grand National Series competition in the 1960s. The individuals involved in the use of this equipment won national championships and the cheating was never detected because post-race engine inspection in both sanctioning bodies only covered the carburetors, intake manifold, cylinder heads and the measurement of the bore and stroke of the cylinders. 
In this case in the 1960s and 70s the cheating involved the use of roller bearing engine lower ends in engines where the crankshaft, connecting rods and camshaft all spun in anti-friction roller bearings, instead of conventional plain bearings.
This crankshaft is a one piece and is heat treated and surface hardened. The connecting rods and bearing races are split in the middle. The bearing retainers are also split in half and assembled around the crankshaft, and split races are in the block and main bearing caps. The roller bearings run directly on the hardened crankshaft.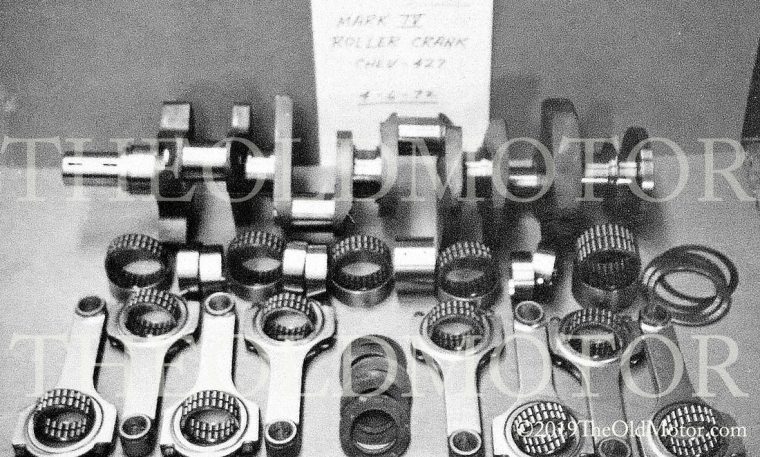 Top to bottom – Custom Mark IV 427 c.i. Chevrolet V-8 crankshaft forged of aircraft quality alloy steel. Center – Main and cam bearings, races, and thrust bearings. Bottom – Connecting rods machined from forged aircraft alloy steel with internal bearing races. Photo dated April 6, 1972.
Freed of friction caused by the parasitic drag of the oil (shear) between crank and camshafts and conventional plain bearings the lower end of an engine rotates quite a bit easier on roller bearings. In addition a smaller oil pump can be used because this type of a bearing can survive on a fraction of the amount of the oil pressure necessary with plain bearings. The power consumed in overcoming this friction and loss due to a larger oil pump can then be used to propel a racing car to higher speeds than competitors engines using conventional bearings are capable of and this advantage can and was used to win races.
We have decided to not name names and companies involved with making this equipment and the individuals using this equipment out of respect to their surviving family members and because of possible litigation.
Because of the decision before anyone starts crying foul and says this is a hoax or the photos were doctored in photoshop, rest assured that what you see in the small period photos (2″x 3″,) which are in our own collection is real. The only thing that has been removed from the photos we are sharing with you is the logo of the engineering company that masterminded these conversions.
Also in our possession is a custom made forged V-8 crankshaft (one of three made and the only one that survived,) a set of main and connecting rod roller bearings, and one connecting rod that was used in a 427 c.i. Ford engine in the 1960s in Nascar Grand National Series competition that resulted in winning the championship laurels.
We will return in the near future with Part II of this story and a photo of another even more remarkable 427 Chevrolet V-8 lower end roller bearing conversion and more details of the construction details on both conversions.