Seeing a need for a modern high-speed-gasoline-powered train car for short runs the Clark Equipment Company of Buchanan, MI constructed a pair of "AutoTram" Streamliners in 1932. The vehicle in the lead image weighed twenty-six thousand pounds and seated forty passengers in the all-aluminum alloy coachwork featuring a forced ventilation and heating system, it was constructed by the Aluminum Company of America.
For comfort and a smooth ride, the "AutoTram" featured Clark-Goodrich resilient wheels consisting of an inner rubber cushion and a cast steel wheel. Power for the train car was provided by an OHV Series 452 V-16 Cadillac engine producing one-hundred and sixty-five h.p. The three-inch bore by four-inch stroke engine was fed by two single-barrel updraft carburetors. A dual exhaust system exited below the tapered tail at the rear of the coachwork.
View an enlargement of the lead photo and two sectional enlargements (below) by Johnson & Johnson of Pittsburgh, PA for the Aluminum Company of America, courtesy of the Hagley Museum and Library. To learn more view a news clip film "The Torpedo Car" by British Pathe.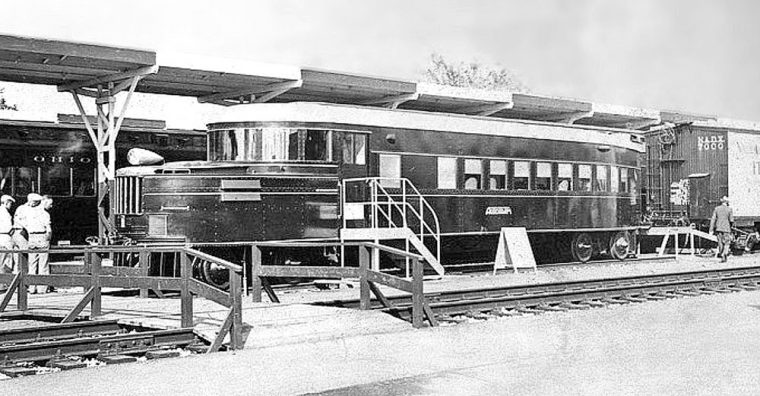 1933 Century of Progress Exposition photo of the smaller of the two "AutoTrams" that were constructed. Clark Equipment Company postcard (below) courtesy of Railarchive.net