By David Greenlees: This is the second part of this story and this installment of it features a custom built-up-ten-piece roller bearing crankshaft for a Mark IV 427 c.i. Chevrolet V-8 engine that was used in NHRA Championship Race meets in the 1970s. If you are new to this series of posts you can look back to Part I where we covered the background information about how and why these crankshafts were manufactured.
This particular crankshaft is a more exotic and costly proposition than the one-piece crank in "Part I." This shaft was precision machined from individual pieces of forged aircraft alloy steel that was heat-treated and surface hardened to prevent wear by the bearing rollers.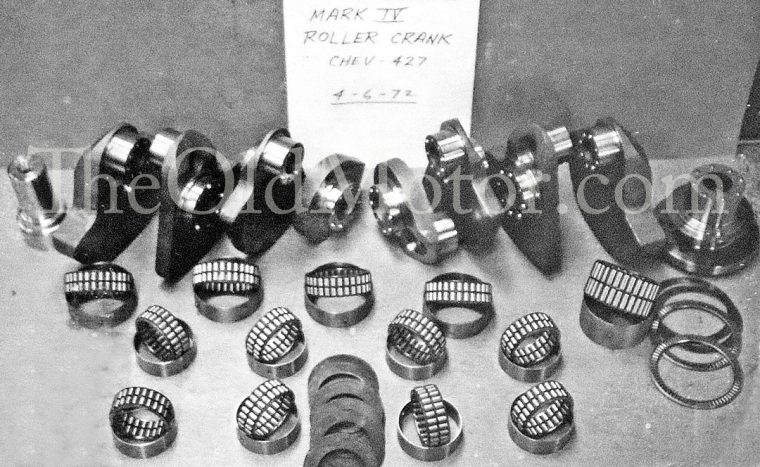 Ten-piece-built-up Mark IV 427 c.i. Chevrolet V-8 roller bearing crankshaft (top), five main bearings and roller thrust bearings and side plates (middle), eight connecting rod bearings and thrust washers (bottom.)
Each individual section of the assembly is precisely located to its adjoining half by the use of hardened steel dowel pins that fit into eight bored and reamed holes in each piece. The two sections are then held together by a fastener that passes through the center of the bearing journal.
By using this form of construction the connecting rods (not pictured) can have a full one piece round lower end and are not be split and held together by bolts (a weak point) as is used with a conventional style rod. Each double row roller main bearing is placed on one half of its bearing journal and the two pieces are assembled and then fastened together; this assembly method is also used for the connecting rods and bearings.
As stated earlier in "Part I":
"We have decided to not name names and companies involved with making this equipment and the individuals using this equipment out of respect to their surviving family members and because of possible litigation."
"Because of the decision before anyone starts crying foul and says this is a hoax or the photos were created in Photoshop, rest assured that what you see in the original small period photos (2″x 3″), which are in our own collection are real. The only thing that has been removed from the photos we are sharing with you is the logo of the engineering company that masterminded and built these lower end assemblies."
"Also in our possession is a custom made forged V-8 crankshaft (one of three made and the only one that survived,) a set of main and connecting rod roller bearings, and one connecting rod that was used in a 427 c.i. Ford engine during the 1960s in Nascar Grand National Series competition that resulted in winning the championship laurels."