Updated below: If you are mechanically-minded, here is an interesting and unbelievably complex truck chassis to study over the weekend. It appears to be a prototype being assembled at the Pulmore Motor Co. of Pittsburgh, PA.
The hinged power plant assembly is equipped with a worm and wheel assembly and a hand crank to lift it up for service. The power to propel this circa-1910s machine is provided by an L-head four-cylinder engine backed up by a multi-disc clutch and a three-speed transmission. Behind and under it (internally) appears to be gearing and a parallel shaft that transmits the motion forward to another set of gears and a differential to a set of jack-shafts.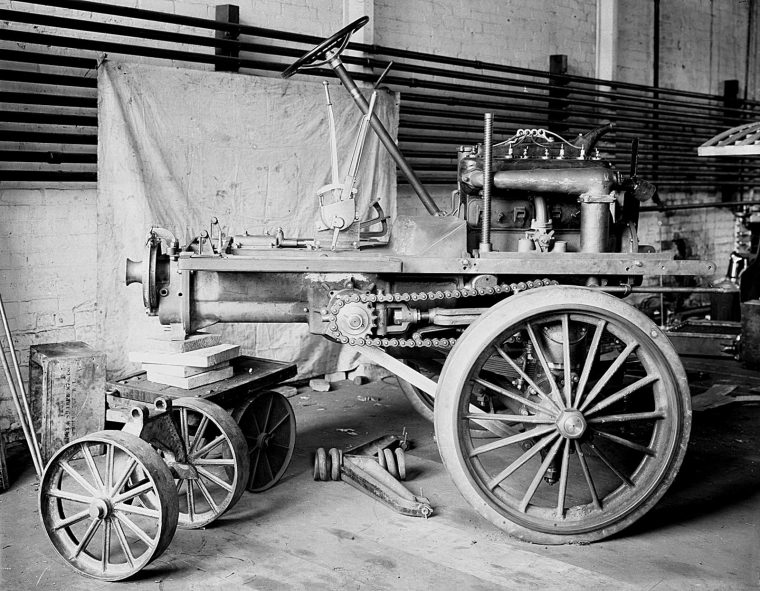 On the outer ends of the jack-shafts are a pair of sprockets (above) that transfer the power forward via a set of chains to horizontal shafts mounted at the top of the front-drive axle spindles, which appear to be equipped with a bevel gearing. The motion then passes downward via a shaft that connects to another set of bevel gears and shafts at the bottom that then protrude outward and drive the front wheels.
The yoke and springs on the floor in the image (above) and one of a set of a possibly two wheel assemblies (four wheels in total) give us a hint at how the rear wheels were positioned.
Please share with us what you find of interest in this image courtesy of the National Automotive History Collection.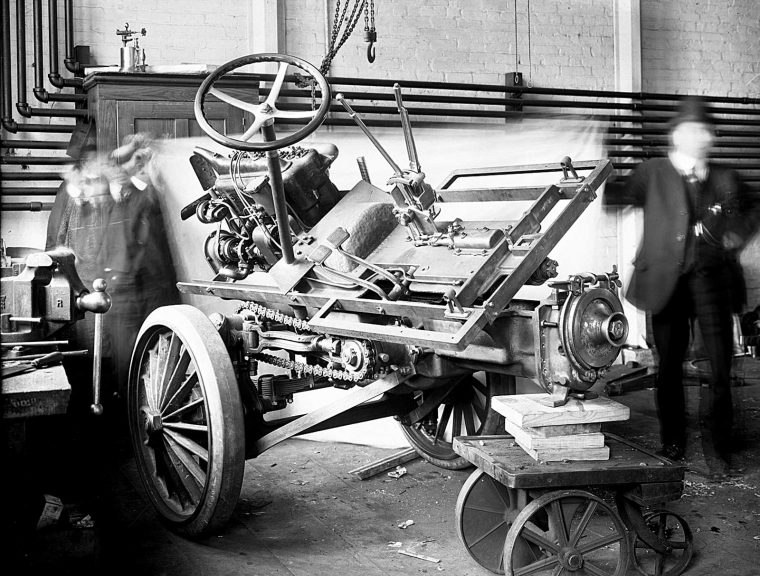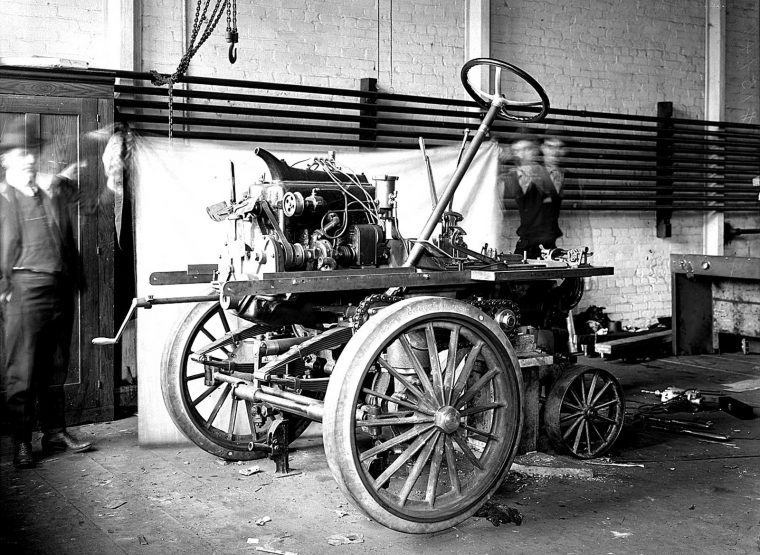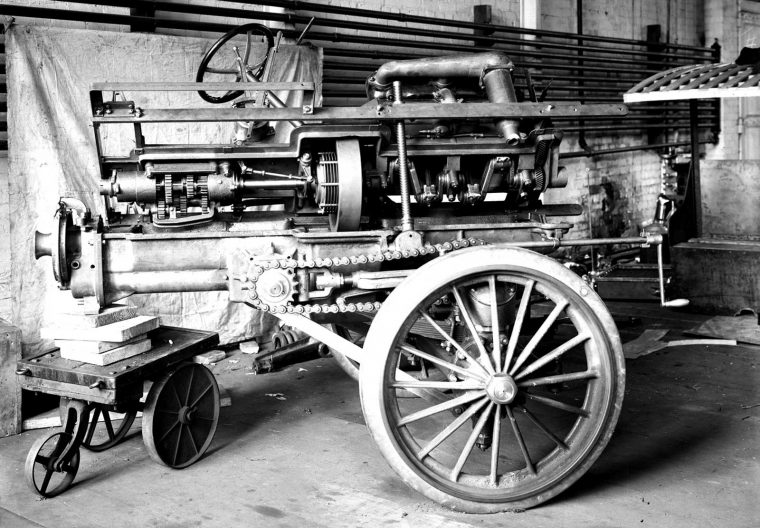 Update: Both Ace Cenek, and Kelly Willians responded with information and copies of period magazine articles which are below. Others have also added information that can be found in the comments section.
Ace Cenek wrote: According to "The Illustrated Encyclopedia of American Trucks and Commercial Vehicles by Albert Mroz," the following is the history of the Pull-More Company (page 318).
"The Pull-More Company of Detroit, Michigan was incorporated by Frank C. Krueger, Henry M. Marker, Ralph S. Moore and Marvin A. Smith with a capitalization of $250,000. E.M. Leavitt was president and treasurer."
"It appears the company built 1-, 2- and 3-ton capacity truck prototypes. The entire front-wheel-drive unit (including engine and cab) were detachable, with easy access to mechanical components. The 3-ton truck pictured had power steering, with the entire driving unit pivoting on a king ball located midway between the front wheels — somewhat akin to the MacDonald [truck]. Illustrations show small wheels that swung down from the back bottom of the cab so that the entire drive unit could site upright and be moved without the bed and rear axle — essentially a primitive version of a truck tractor."
"A factory was secured in New Castle, Pennsylvania, but by 1917, the company had been reorganized with E.M.S. Young as president and general manager and H.P. Pope as vice-president. Plans were made to build 100 trucks per month, and the company was by then capitalized with $1 million, it was announced. A 3-ton Pull-More chassis was priced at $3,400. In 1918, the company went into receivership and was shut down permanently."